Ohanaeze Appeals To Buhari Over Nnamdi Kanu's Release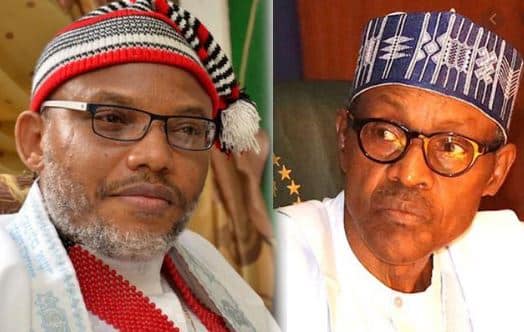 The President of Ohaneze Ndigbo, Emmanuel Iwuanyanwu, has again appealed to  President Muhammadu Buhari to release the leader of the Indigenous People of Biafra (IPOB), Nnamdi Kanu.
He made the appeal on Thursday while speaking at the flag of dredging of Oguta Lake –Orashi River in Imo State witnessed by Vice President Yemi Osinbajo.
Iwuanyanwu pleaded with Buhari to release Nnamdi Kanu before he leaves office on May 29, adding that Igbos are not seceding because they are everywhere and would not leave their investments.
He said, "Our vice president, tell our brother, our son Buhari that Ohaneze Ndigbo with over 60 million people requests that he should release Nnamdi Kanu. Igbos are not seceding. I don't see any reason why someone would say Igbos are seceding. Igbos are everywhere. We have investments, are we going to leave our investments?
"So please I am passing this message to him because he's my president in Nigeria but in Ohaneze Ndigbo, he has been honoured by us and he is a member.
So he's my subject there. So I am now telling him that Nnamdi Kanu should be released before he departs. We are going to be very grateful."
Naija News reports that the IPOB leader has been in the custody of the Department of State Service (DSS) since he was brought back from Kenya on June 19, 2021.
Subsequently, the Federal Government filed treason and terrorism charges against Kanu.