Former Lawmaker Shot Dead On Live TV In Uttar Pradesh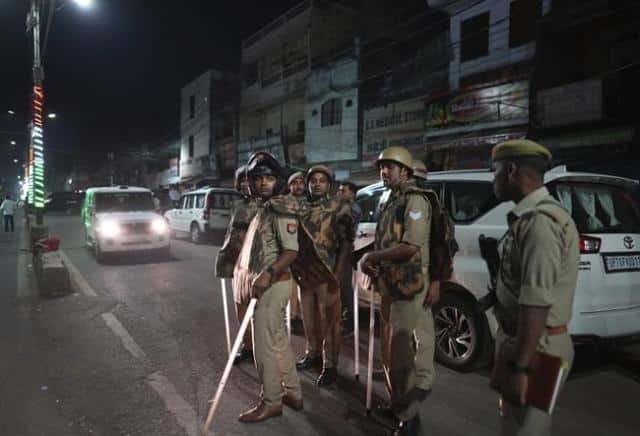 There was commotion during the weekend when a gunman walked up to a politician and his brother in India and shot them in the head.
The incident raised eyebrows in Uttar Pradesh as Atiq Ahmad and his sibling were shot at while addressing journalists.
Naija News learnt that the victim, a former senator, Ahmad had over 100 criminal cases against him and was being escorted by police for a court-mandated medical checkup when the incident occurred.
It was gathered that Ahmad was being interrogated by journalists on why he had not attended his son's funeral, and just as he responded that he was not allowed to go, a shooter sneaked up behind him, pointed a gun directly at his head, and fired a shot instantly killing him.
According to Daily Mail, the former lawmaker's son, Asad Ahmad, had died two days earlier.
He was reportedly shot dead by Uttar Pradesh Police in what was being seen as an extra-judicial killing.
While Atiq collapsed during the latest attack, the shooter reportedly sprayed him with several bullets. Two other shooters then opened fire, killing his brother, Ashraf, who was of a similar criminal background to his cousin.
A police constable and a journalist were also reported to have injuries in the melee of bullets.
Amid the shootings, attackers were heard shouting the words 'Surrender' and 'Jai Sree Ram', a slogan to praise the central figure of the Hindu religion, as police captured them.
"All the three shooters have been kept in three different police stations of the city," a police commissioner confirmed following the attack.
Ahmed, who is a former MP, and his brother were in police custody and had been brought to Prayagraj in Uttar Pradesh, where Ahmed was facing murder and assault charges.
The Chief Minister of Uttar Pradesh, where the shooting took place, Yogi Adityanath, has been criticised for promoting "encounters", a term used for extra-judicial killings in his state. He has now constituted a high-level committee to investigate the killing.
Opposition politicians and human rights activists have also slammed Adityanath and the ruling party, BJP, for promoting "anarchy and lawlessness."
"When someone can be killed by firing openly amidst the security cordon of the police, then what about the safety of the general public?" tweeted a former Chief Minister of the state, Akhilesh Yadav.
"Due to this, an atmosphere of fear is being created among the public, it seems that some people are deliberately creating such an atmosphere.'
Mail Online further gathered that police had imposed a strict curfew and were holding flag marches in the area in an attempt to restore law and order.
The three shooters have been kept at three separate police stations while initial investigations are concluded.