'It Was Peter Obi's Phone Call They Heard And Not God' – Keyamo Blast Oyedepo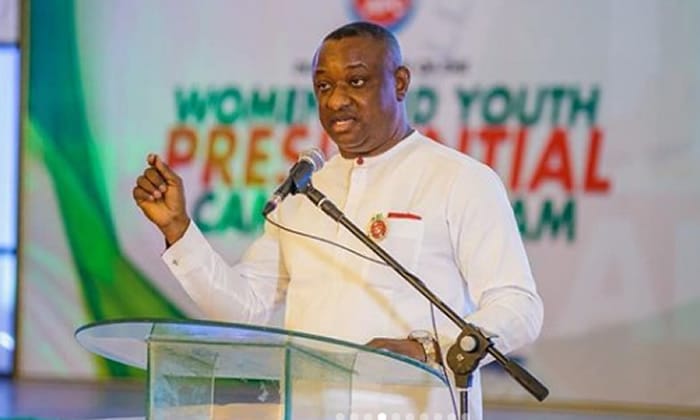 The spokesperson of the Tinubu/Shettima Presidential Campaign, Festus Keyamo (SAN), has reacted to the leaked audio conversation between the presidential candidate of the Labour Party (LP), Peter Obi and the Founder of Living Faith Church, David Oyedepo.
In the purported audio, Obi begged the cleric to help him mobilise Christian voters ahead of the 2023 general elections.
Keyamo in his reaction to the leaked audio said it has exposed men of God who claimed to have heard from God, whereas it was the call of Obi they heard.
The statement released by the Minister of state for Labour and Employment reads, "Having confirmed the authenticity of what is now known as the Peter Obi 'Yes-daddy' audio, I think the real culprit here are the so-called 'men of God' who allowed themselves to be used by an unscrupulous politician to seek to inflame religious passions in our dear country in the name of politics.
"So, when they were telling their hapless adherents that they heard the voice of the Lord, it was actually Peter Obi's telephone calls they heard and not God's voice. This is deceitful, shameful and disgusting. Imagine a so-called 'man of God' comparing notes with a politician as to what he said or what he would say on the pulpit in order to get him votes.
"I hope this sufficiently embarrasses the 'men of God' in Nigeria to forthwith desist from using the pulpit for politics and the Church-goers to stop being teleguided by their self-serving 'men of God'.
"As for Peter Obi who declared an election a 'religious war' in a multi-religious and multi-ethnic country like ours, the real God has just exposed him and his dream to be Nigeria's President one day has just died a natural death. 'Yes-daddy' is now permanently etched in the consciousness of the nation and we will NEVER forget!"