What Gov Umahi Said After Meeting With Buhari In Abuja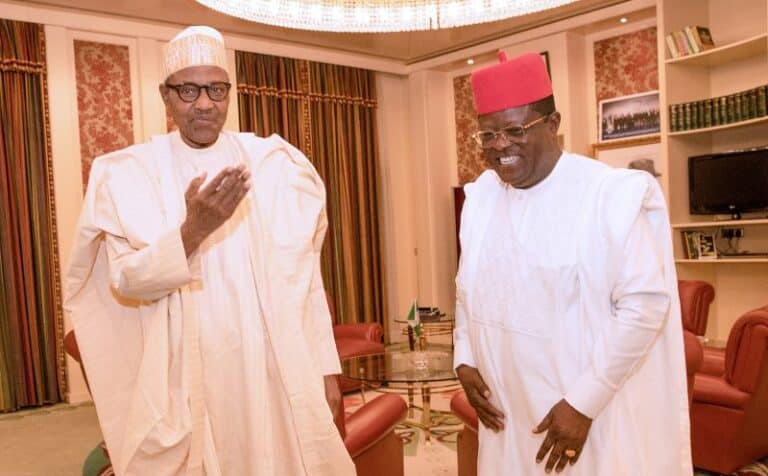 Governor of Ebonyi State, David Umahi, spoke to the press on Tuesday evening after holding a closed-door meeting with President Muhammadu Buhari at State House.
Naija News reported earlier that the 59-year-old politician visited Buhari at his Abuja office today.
Shortly after the meeting, Umahi, who got elected during the just concluded election to represent Ebonyi South District in the National Assembly, said zoning should be adopted to determine the leadership of the 10th assembly.
Umahi told reporters at the State House that the ruling All Progressives Congress (APC) would have to consider certain parameters to carry all regions along rather than allow everyone to jump into the race.
The APC chieftain, however, declined to speak further on the issue following directives by the party leadership to halt conversations on the matter until after the upcoming governorship and state assembly elections of March 18, Naija News understands.
According to Umahi, he had requested President Buhari to consider the takeover of Ebonyi Airport to ease the burden of maintaining what he described as the largest cargo and international airport in the country.
Meanwhile, the Senator-Elect for Kano Central, Rufai Hanga, on Tuesday described President Muhammadu Buhari as the worst president Nigeria has ever had.
According to Hanga, the President is a total failure, adding that Buhari does not have capacity. Hanga stated this during an interview on Trust TV's Daily Politics.
He said, "Buhari was posing himself as a Messiah and unfortunately, but that was untrue. The Trustworthy (Mai Gaskiya) is the best nickname he would like to have, but he is not. Look at what he did, he surrounds himself with people that have fat files with EFCC and those that he used to abuse before.
"Before I believed in Buhari but now I have seen the right thing. I now know better. He is a Total Failure. He will sleep confidently in Daura because he doesn't know what is happening. He has no capacity. Buhari has no capacity.
"If somebody would perform the way he did if somebody would take the country to where it is now and continue to advocate that he is the best President Nigeria has ever had… That is what he has been saying himself that he performed more than all the former leaders.
"To me, he is a decimal failure compared to the rest."