Real Madrid Vs Liverpool: Ancelotti 'Brags' Ahead Of UCL Clash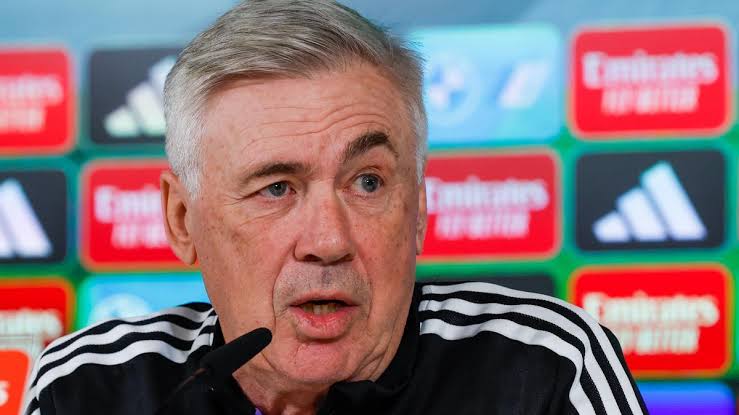 Real Madrid manager, Carlo Ancelotti, has bragged about his side replicating what they did to Liverpool at Anfield last week in their UEFA Champions League clash.
Naija News recalls that Madrid defeated Liverpool by 5-2 in their last 16 first-leg, giving the Spanish giants a leading advantage as they look forward to a second-leg match on Wednesday, March 15.
Speaking during the pre-match interview on Tuesday, Ancelotti expressed optimism that Madrid will maintain the lead.
He, however, said his team will go on the attack against the Reds tomorrow instead of trying to protect their Champions League dream.
Despite their three-goal cushion, Ancelotti said his team had to focus on winning against the visitors tomorrow at the Santiago Bernabeu to reach the quarter-finals.
He said: "It's quite simple, we don't have to make calculations, instead try to play the best that we can, try to play a game as we did in the first leg.
"Our ideal is not in making calculations, we have to play at maximum intensity, with maximum hope, trying to win the game."
The Italian coach believes Jurgen Klopp's men will try to change their style of play and hope for winning.
He, however, said the match will be an open game as Liverpool need to mount a huge comeback, while his team will not sit back and defend.
"We've looked at what we did in the first leg, we did a lot of things well, above all in attack," Ancelotti said.
"We'll not play a game thinking about our advantage, we will play our football, attacking football.
"Tomorrow will be an open game, Liverpool will try and change the dynamic of the tie, so we have to do two things well — defending and attacking," Ancelotti told journalists.
Speaking on striker Kareem Benzema's participation after missing Madrid's win over Espanyol on Saturday in La Liga with an ankle problem, Ancelotti said the player is 100 percent fit to face Liverpool.
Ancelotti added: "Yes, tomorrow he's at 100 per cent, he trained on Sunday, he's done good sessions, he's at his best, motivated — for Karim and the club it's a very important competition."