Father Mbaka To Meet Tinubu Over Release Of Nnamdi Kanu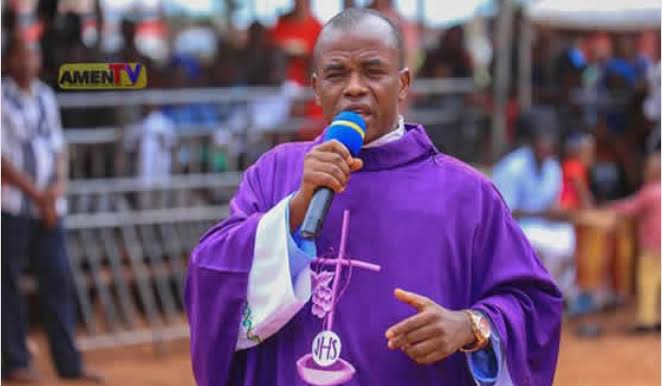 The Spiritual Director of Adoration Ministry Enugu (AMEN), Rev. Fr Ejike Mbaka has disclosed plans to meet with the president-elect, Bola Tinubu over the continued detention of the Indigenous People of Biafra (IPOB) leader, Nnamdi Kanu.
According to Mbaka, many elders in the country who are supposed to push for the release of the detained IPOB leader have failed to do so.
He also berated such leaders for keeping silent over the new naira policy of the government which has brought untold hardship to Nigerians.
The fiery clergyman, therefore, said since the elders are keeping quiet, he as the father of the youths is making arrangements to meet the incoming President of Nigeria to discuss the release of Mazi Nnamdi Kanu.
Naija News reports Mbaka disclosed this on Sunday during a worship service at his adoration ground.
"Our leaders are silent on the naira policy. I expected them to talk but they kept silent and allow the poor masses to suffer like what they did to our brother, Mazi Nnamdi Kanu.
"As a father of the youths, anything that affects them affects me. I will speak. The continuous detention of our brother Kanu is not good. I am making arrangement to meet with the incoming President and what I will discuss with him is the release of Kanu," he said.