Boko Haram And ISWAP Have Been of Subdued – Buratai Makes Case For President Buhari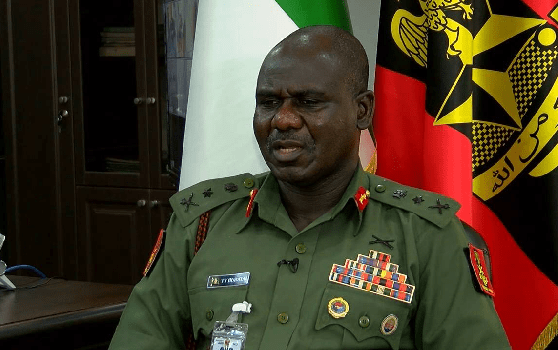 Former Chief of Army Staff, Lt.-Gen. Tukur Buratai (rtd), has made a case for President Muhammadu Buhari over his promise to fight insurgencies when he took over as president.
Naija News reports that the former army chief told pressmen in Abuja on Sunday that the president has fulfilled the promise made in his inaugural address on May 29, 2015, to subdue terrorism in the country.
According to him, President Buhari came up with clear-cut strategies to subdue the Boko Haram and Islamic State of West Africa Province (ISWAP) terrorists, thereby restoring peace to the northeast and other areas.
Buratai submitted that "Buhari had said the military command centre will be relocated to Maiduguri and remain until Boko Haram is subdued.
"I say this with every sense of responsibility that the administration has subdued Boko Haram and terrorism.
"As his premier Army chief, and the longest that served him, I think I owe it a duty to Nigerians and the world to say it as it is."
The former army chief advanced that it would be unfair to think victory over Boko Haram meant a cessation of hostilities, noting that it is only when these terrorist groups agree to forsake their ideology, embrace democracy, respect the constitution and embrace peace is when hostilities can stop.
He continued saying Boko Haram insurgency was allowed to manifest before 2015 by official bungling, negligence, complacency and collusion, adding that the terrorist group became a force to reckon with the use of fear.
He "This is the true summary of Boko Haram insurrection.
"The murder of Muhammad Yusuf by the police was clearly extrajudicial. Negligence, complacency and collusion with proponents and leaders of Boko Haram for selfish reasons caused insurgency to degenerate into a full-blown nightmare."
But the President came prepared with the right information about the root causes of insurgency and terrorism.
Buratai recounted how "The President made it clear there were lapses in the way police operate.
"Notwithstanding, he also made it clear the methods used by the sect qualified them to be labelled mindless and godless human beings.
"He told Nigerians and the international community the terrorists were not true Muslims."
Revealing the mode of operations of these terrorist groups and how the military subdued the terrorists and parameters to ascertain the veracity or otherwise of the assertion, he said "We must take a stand and show that we are not with the insurgents and terrorists.
"What the military is doing is fighting for the safety of the people. The military is there to protect and defend the people.
"The military is not fighting the terrorists on its own; it is there because of the people. It is a people's war, and not a military thing.
"Therefore, we must get involved, be resilient, provide timely and credible intelligence and avoid action to disrupt the peace.
"We have a duty to ensure that we entrench peace right from our homes. We must also know what every member of our community is engaged in."