Buhari: The Relationship Between Cash Swap And Kano's Insecurity Confused Me – Emefiele Carpets Ganduje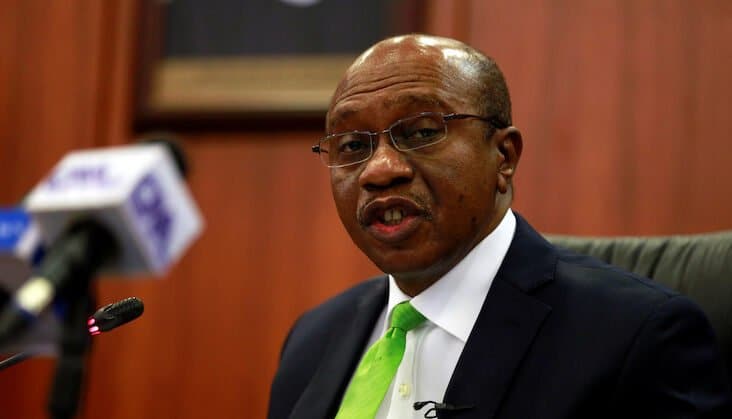 The Governor of the Central Bank of Nigeria (CBN), Godwin Emefiele has said that there is no relationship between  the security threats pushed by Governor Abdullahi Ganduje of Kano State and the ongoing currency swap across the country.
Naija News recalls that Ganduje, during an interactive session with critical stakeholders, including scholars, legislators, political leaders and the business community in the state, said that he had asked President Muhammadu Buhari to postpone his official visit to Kano.
Ganduje had said his state was deeply affected by the hardship caused by the ongoing cash swap and therefore advised the president to postpone his visit to avoid unforeseen circumstances.
However, the CBN governor debunked Ganduje's assertion, saying, "I don't understand the relationship between the CBN policy and security challenges in Kano State."
Meanwhile, Buhari had earlier on Sunday morning approved an extension of the ongoing currency swap by ten days, moving the deadline from January 31 to February 10.
Bola Tinubu Refers To Atiku As Senate President
The All Progressives Congress (APC) presidential candidate, Bola Tinubu on Monday suffered yet another gaffe.
Tinubu, during the presidential campaign of APC in Uyo, Akwa Ibom State, referred to the presidential candidate of the Peoples Democratic Party (PDP), Atiku Abubakar, as a former senate president instead of ex-vice president.
The former Governor of Lagos State made this mistake when he accused Atiku of selling assets in the country.
Tinubu also claimed that the PDP presidential candidate, while in the APC, embezzled the money of the party.
The APC presidential candidate said, "Atiku when we made him the senate president, he sold this and sold that.
"He sold our asset, our commonwealth and he embezzled our party money.
"Everything that we had, he sold it and we became skeletons.
Atiku didn't care."