Full List Of FIFA World Cup Golden Ball Winners
Argentina captain, Lionel Messi has won the World Cup Golden Ball for the second time, following his exhilarating and mesmerizing performance in Qatar.
Naija News report that the World Cup Golden Ball is the award given to the best player at a particular World Cup tournament. Messi became the first player ever to win two Adidas Golden Balls.
As well as a Golden Ball, FIFA awards the Silver Ball to the player deemed second best and a Bronze Ball to the third-best player.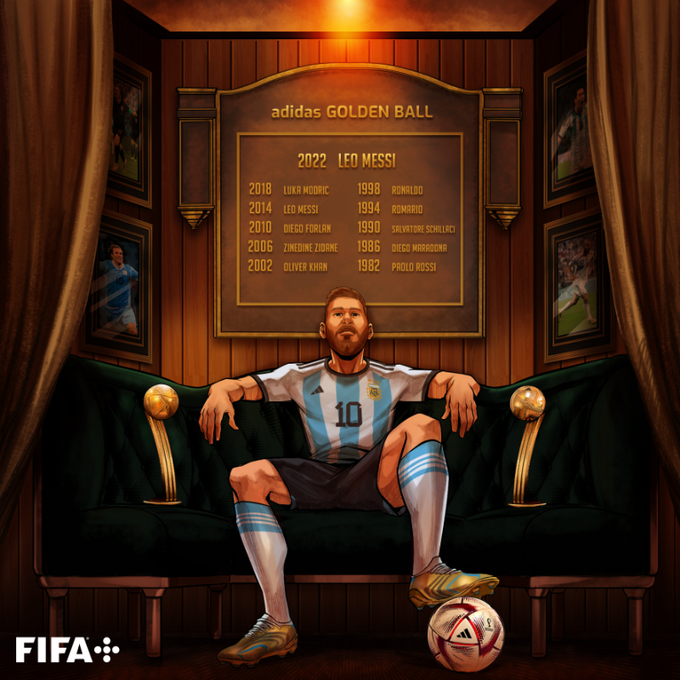 The World Cup Golden Ball award has officially been handed out since the 1982 World Cup in Spain, with Italy legend Paolo Rossi winning it on that occasion.
Since then it has been won by some of the best players in football history, including Diego Maradona (1986), Ronaldo (1998), Zinedine Zidane (2006), and Lionel Messi (2014 & 2022).
World Cup Golden Ball winners list
| World Cup | Golden Ball | Silver Ball | Bronze Ball |
| --- | --- | --- | --- |
| 2022 | Lionel Messi (Argentina) | Kylian Mbappe (France) | Luka Modric (Croatia) |
| 2018 | Luka Modric (Croatia) | Eden Hazard (Belgium) | Antoine Griezmann (France |
| 2014 | Lionel Messi (Argentina) | Thomas Muller (Germany) | Arjen Robben (Netherlands) |
| 2010 | Diego Forlan (Uruguay) | Wesley Sneijder (Netherlands) | David Villa (Spain) |
| 2006 | Zinedine Zidane (France) | Fabio Cannavaro (Italy) | Andrea Pirlo (Italy) |
| 2002 | Oliver Kahn (Germany) | Ronaldo (Brazil) | Hong Myung-bo (South Korea) |
| 1998 | Ronaldo (Brazil) | Davor Suker (Croatia) | Lilian Thuram (France) |
| 1994 | Romario (Brazil) | Roberto Baggio (Italy) | Hristo Stoichkov (Bulgaria) |
| 1990 | Salvatore Schillaci (Italy) | Lothar Matthaus (West Germany) | Diego Maradona (Argentina) |
| 1986 | Diego Maradona (Argentina) | Harald Schumacher (West Germany) | Preben Elkjaer (Denmark) |
| 1982 | Paolo Rossi (Italy) | Falcao (Brazil) | Karl-Heinz Rummenigge |