Tinubu Sparks Reactions As APC Flagbearer Tells Campaign Members How To Acquire Power At All Cost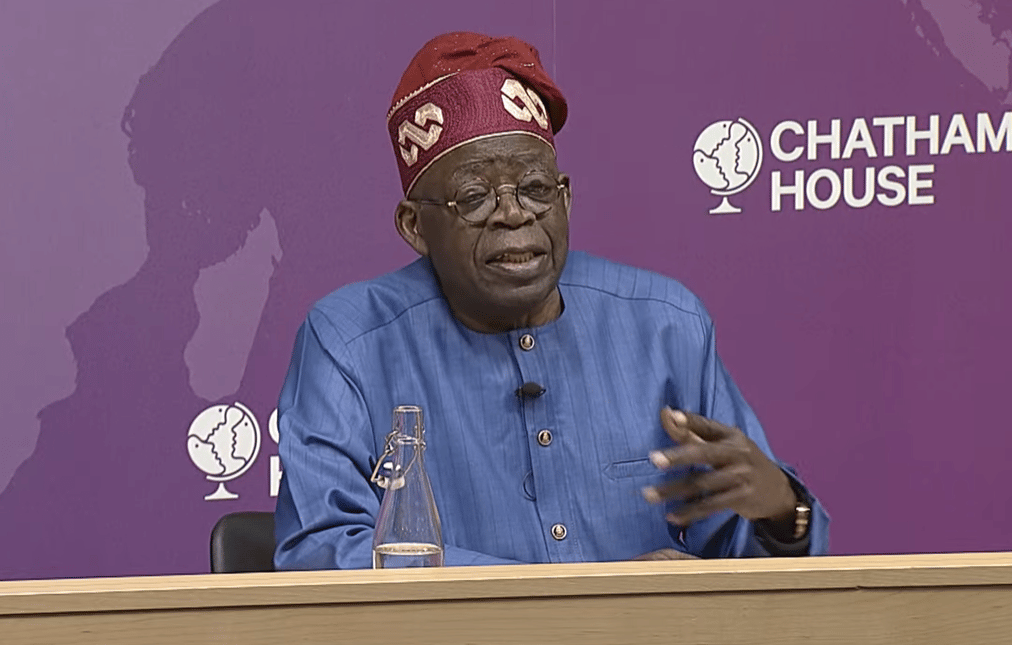 The All Progressives Congress (APC) Presidential candidate, Bola Tinubu, has sparked reactions online over his recent comment in London, the United Kingdom.
Naija News earlier reported that the former Governor of Lagos State was seen in a viral video educating his campaign team on how to acquire power at all costs.
The APC flagbearer, who had appeared at the Chatham House in London, on Monday, spoke on issues concerning the 2023 election, economy, security, and foreign policy.
After the event, Tinubu and his team also had the opportunity to unwind from their stress at a private dinner where he educated them on political power.
According to the APC flagbearer, political power is not served in a restaurant or ala carte and a person must be determined to get it at all costs.
He noted that if taking over political power will involve fighting for it, an individual should snatch it, grab it and run with it.
However, some Nigerians have taken to social media to express their opinions on the statement made by Tinubu ahead of the 2023 elections.
Below are some of the reactions.
Someone says it's amazing how smooth and eloquent Tinubu sounds when he talks about thuggish illegal criminal things …He is talking about snatching and grabbing aka rigging shameless grandpa dis time grandchildren will pull u by ur ears chaii #PeterObiForPresident2023 pic.twitter.com/recl6WU8c6

— Keisha🇿🇼🇳🇬🌟⭐ (@Keisha_Lakish) December 8, 2022
LEAKED: "Political power is not going to be served in a restaurant, … at ALL COST, FIGHT for it, GRAB it, SNATCH it & RUN with it." – Tinubu.

His spokepersons will say, he's not referring to ballot boxes, but just charging his team in parables.@inecnigeria take note. pic.twitter.com/H5RkInMDff

— Ayemojubar (@ayemojubar) December 8, 2022
APC is now preaching snatch-and-grab politics.
SNATCH, GRAB & RUN away with it.

Bola Tinubu, the flag bearer of a ruling party said it out loud & people in the room were clapping like Manchurian clowns cheerleaders.

Imagine what Nigeria will be should such be made president. 🥶 pic.twitter.com/TiI5LCmWyO

— QwertyGandalf (No-CORN) (@517p705) December 9, 2022
*"…Political Power Will NOT Be ServedIn A Restaurant…"* ~ TINUBU pic.twitter.com/UAu0w4HaN3

— Tolani ⭕niyaba🕊️ (@Oniyabba) December 8, 2022
"…Political power is not going to be served in a restaurant, it's not serve a la carta, it's being determined to do it at all cost, fight for it; grab it; snatch it; and run with it" Tinubu pic.twitter.com/ibtSoDFcmH

— #Phoenix (@O_basslet) December 8, 2022
Jagaban promoting thuggery

He has told people his *strategic plan* on how to win 2023 election

*How to get Political Power*
1. Fight for it *at ALL COSTS*
2. Grab it
3. *Snatch* it
4. And run with it

MAY TINUBU NOT SUCCEED IN THIS PLOY.
⁦@SavvyRinu⁩ ⁦@UchePOkoye⁩ pic.twitter.com/4My65HRbh7

— 🇳🇬 Global Comrade🇺🇸 (@WorldRenownedMC) December 9, 2022
Tinubu has declared war on Nigerians, vowed to win the election at all cost. pic.twitter.com/7w7qONijSx

— Jude Akhidenor 🇳🇬🇱🇷 (@JudeHeavenly) December 8, 2022
Do you want to know why agbero has been attacking LP supporters in Tinubu's lagos?

Watch this video. pic.twitter.com/3UfWs19kpv

— Elon™ (@elonchorch) December 8, 2022
Tinubu is a beast and he is the reason behind thuggery that has engulfed Lagos. Can u hear him inciting his followers to grab political power at all cost since it is not serve in a restaurant? D drug Lord will talk well when inciting violence and goof wen ought to make sense. pic.twitter.com/jYYifq8hEC

— BUCOS (@TENIBEGILOJU202) December 8, 2022
Tinubu : Leaked video from APC meeting with Bola Tinubu encouraging his team how to fight, use thuggery, snatch ballot boxes & grab power at all cost..

Now you know why he refused to sign the "Peace Accord "…this man is planning to unleash hell on election day but e no go work pic.twitter.com/OwQA5u2oiA

— Honyfactory (@Honyfactory) December 8, 2022