You Have Not Done Your Assignment Properly – Jandor Knocks Wike For Endorsing Sanwo-Olu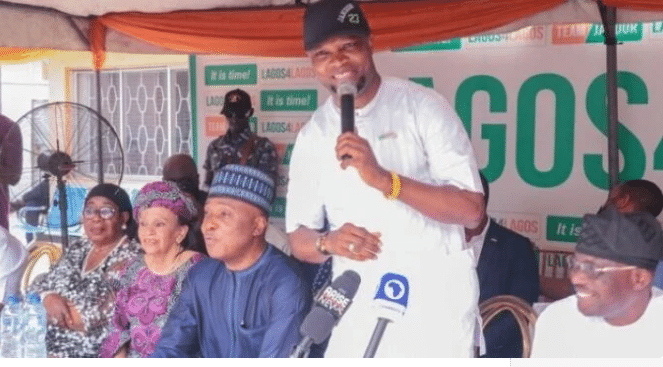 The governorship candidate of the Peoples Democratic Party (PDP), Olajide Adeniran, better known as Jandor, has slammed the Governor of Rivers State, Nyesom Wike, for endorsing his Lagos State counterpart, Babajide Sanwo-Olu, for a second term in office.
Recall that Governor Nyesom Wike of Rivers State had on Tuesday endorsed the Lagos State Governor, Babajide Sanwo-Olu, despite his party (PDP) fielding Jandor as its gubernatorial candidate.
The decision of Wike to endorse another party's governor has drawn widespread reactions, with members of the PDP condemning him, while the APC commended him.
Speaking on Wednesday while appearing on Channels Television, Jandor said he was not surprised Wike endorsed Sanwo-Olu.
He accused the Rivers State Governor of not supporting him during the party's governorship primary in Lagos because he lacked structure at that time.
According to Jandor, Wike would not have endorsed the Lagos State governor if he (Wike) had done his assignment well.
The PDP governorship candidate said Sanwo-Olu has nothing to show in terms of the execution of projects in his three years as governor, hence Wike had no reason to support the Lagos Governor.
Jandor said: "During my primary, he did not buy my form. He was supporting somebody else in Lagos because he needed structure to win (PDP presidential primary). I don't have that structure.
"They had done all the structures in the PDP before my coming, and I said to him in the presence of governor Seyi Makinde that 'your friend is not supporting me in Lagos.' I repeated it when I went to Port Harcourt.
"That was before the primary. He said he was supporting somebody else, and I understood why he was supporting someone else because I didn't have anything at that time.
"But today, I picked that ticket with all his might within the PDP, and I'm the candidate of the party today. I don't think I have done anything wrong for him to bring such treatment to Lagos, and I see how APC was jumping up and down because of that.
"If for anything, that brought a lot of sympathy because you will never expect a party man, a governor of a state in our party for that matter, a national leader, will come and do that for any reason at all.
"This governor Wike that came to Lagos saying somebody has performed let me ask him how many times has this governor invited him to come to Lagos to commission a project or any governor at all, the way he (Wike) is commissioning up and down.
"For the four years of the governor, he has never commissioned one single project. In Ambode's tenure, three years, we saw Abule Egba flyover, Ajah flyover, airport international road, and the bypass.
"This government — nothing to show for everything they have done. Yet, their budget in 2020, according to them, performed 88 percent; in 2021, performed 86 percent; and in 2022, for half of the year, it is on 77 percent — both revenue and expenditure.
"Yet, nothing to show for it. What are you celebrating? You just want to come to Lagos and do to that on nothing. If he had done his assignment very well, I don't think he would have said that person was performing."