2023: Nigerians React As Peter Obi Visits Femi Kuti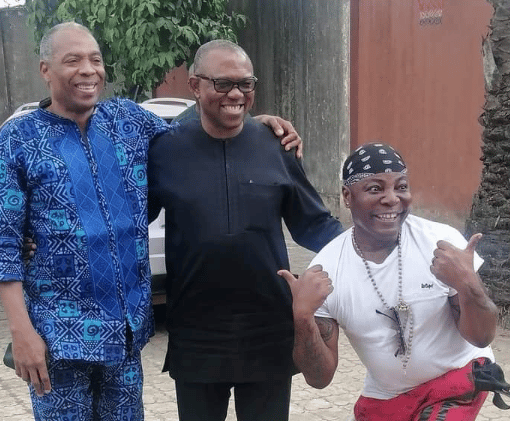 Reactions have trailed the surprise visit of the presidential candidate of the Labour Party (LP), Peter Obi, to Afrobeats musician, Femi Kuti at his residence in Lagos state.
Naija News earlier reported that the former Governor of Anambra State, Peter Obi, had visited Kuti on Wednesday with popular Nigerian singer, Charles Oputa, also known as Charly Boy.
This is coming days after Kuti expressed disdain for Obi's supporters, insisting they are a group of slavish characters who, like zombies, are incapable of thinking for themselves and making their own decision.
According to Kuti, he was too angry and depressed over the situation of the country to be 'Obidient'.
Femi said: "You know what obedience means? Stand up, sit down, sit there — zombie "How can you be Obidient in this chaos? I am not Obidient. Tell me, at 60, why am I Obidient? You said I should be Obidient, sit down, be peaceful."
He, however, made a video clarifying the air about his statement, saying he was misquoted and he never described the supporters of the LP presidential candidate as "zombies".
Shortly after the controversy, the LP presidential candidate visited the iconic singer at the Afrika shrine in Lagos.
Below are some of the reactions:
@tobeokoli wrote; "If it was any of those other old ass candidates now, you'll see 17 Prado jeeps and 30 men trying to open the car door for them. #peterobiforpresident2023."
@donmorelee wrote; ''this man Are you playing ? Femi kuti na true democrat o, he understands politics pass you. So all this your method to buy him to your side isn't working .. go to the North and campaign now"
@oga_santos212 wrote; "Look at the betrayal look on his face. He couldn't even speak well on Peter obi's face."
@jackman_859 wrote; "See as he's very cold and calm like ice blocks"
@possible012 wrote; ''in femi mind, All these politicians are the same."
@mister_bryt wrote; "Obi for President"
@LadyRosa wrote; "Na WA o..Even if Peter Obi no win, he will give others really tough time. For me, this a win anyways for those who don't have a tiny glimpse of hope for Nigeria."