Residents Lament As Gov Ishaku's Administration Struggles With Completion Of Rural Road Projects In Taraba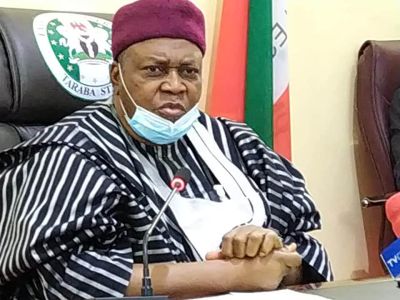 Some residents of Taraba state on Tuesday decried the low concentration of Governor Darius Ishaku's administration on rural infrastructure that is believed could have reduced the growing insecurity and boost the state economy.
The residents lamented that the administration was still struggling with an identified 191 kilometres of rural road projects since 2015 which is just a fraction of rural roads that need attention in Taraba State.
The development according to them has lowered the morale of farmers to boost food production.
Naija News reports that the administration of Governor Ishaku has since 2015, been struggling to construct the 82km Mararaba, Baisa Abong road, 35km Pamanga Daka road, 30km Wukari Tsukundi road, 24km Yerima Gassol road and 20km Mararaba Pantisawa road totalling, 191 kilometres of rural road project.
Mr. Bulus Riman, Danladi Ando and Dauda Sadiq, all told our correspondent in Jalingo that the low performance of the government in rural infrastructure was contributing heavily to the poor state of the citizens.
"The continued low production of food in Taraba state is due the yearly frustration that our farmers have been facing.
"Our farmers major problem apart from insecurity is rural access road. Lack of access roads has continued to thwart the efforts of the farmers.
"Farm produce has yearly perished due to lack of access roads to convey the products to the major markets.
"The government of Governor Darius Ishaku had promised to ensure rural road revolution to boost food production and the state economy but since 2015, the Governor has been struggling to construct only five rural roads of 191 kilometers.
"Going by the daily increase of insecurity in the state, we expected that the governor should have given more attention to rural road construction for easy access to remote areas by the security agents when ever the lives of the citizens are threatened.
"The government has failed in her promise, struggling to construct only 191 kilometres of roads for over seven years is not commendable for a Governor like Ishaku who is an architect by profession and understands the value of rural development.
"We want to appeal to whoever that would be the next governor of Taraba to give at least, 50 percent concentration to rural development", the residents lamented.