CNG Reacts As Terrorists Flog Kidnapped Victims, Threaten To Kidnap Buhari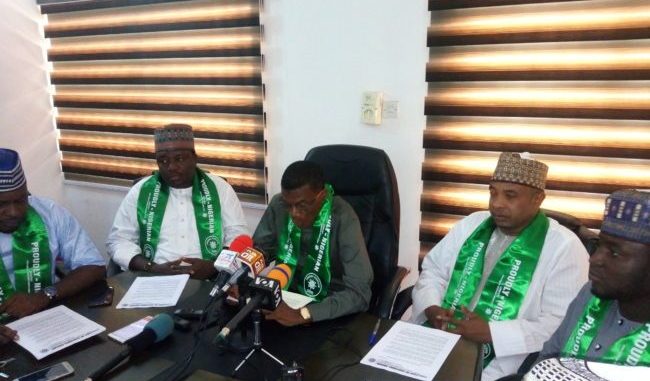 The Coalition of Northern Groups (CNG) has condemned the action of bandit terrorists who subjected the kidnapped victims of the Abuja-Kaduna train attack to severe beating.
The CNG stated that the action of the terrorists has shown that the Muhammadu Buhari-led government has failed to address the worsening insecurity in the country.
The spokesman of the coalition, Abdul-Azeez Suleiman, made this known in a statement on Sunday night.
It will be recalled that as earlier reported by Naija News, a video showing terrorists flogging victims of the Kaduna-Abuja train attack has surfaced online.
In the video, the terrorists are seen flogging some of the victims kidnapped on the Kaduna-bound train on March 28, 2022.
The terrorists also threatened to kidnap and kill President Muhammadu Buhari and Governor Nasir El-Rufai of Kaduna State.
The gunmen in the video also boasted that they would destroy the country, kill the remaining passengers in their custody and sell out the others.
According to CNG, the development has shown that the very existence of the state has been rendered dubious, and the Nigerian state appears like a failed state.
The statement reads: "With the current dominant presence of warlords, paramilitary groups, corrupt policing, armed gangs, terrorism, and a messed up security apparatus of the country, the very existence of the state has been rendered dubious, and the Nigerian state is by all indicators appearing like a failed state".
"The audacious violence shown in the video released by the terrorists and the open threats to abduct the President and sitting governor proves the extent to which the country has lost out to the bandits.
"In the face of the latest development, Nigerians would be right to resort to self-protection because obviously the bandits and insurgents have sensed a huge vacuum in the capacity and political will to challenge them.
"Whether anybody wants to admit it or not, the current administration has failed in the vital area of providing security of life and property to its citizens.
"With the daring video, "all the signs of imminent failure or perhaps the complete failure of state have manifested in Nigeria as its government has failed to maintain a monopoly on the legitimate use of physical force within its borders."