Muslim-Muslim Ticket: What Will Of God Is Adamu Talking About!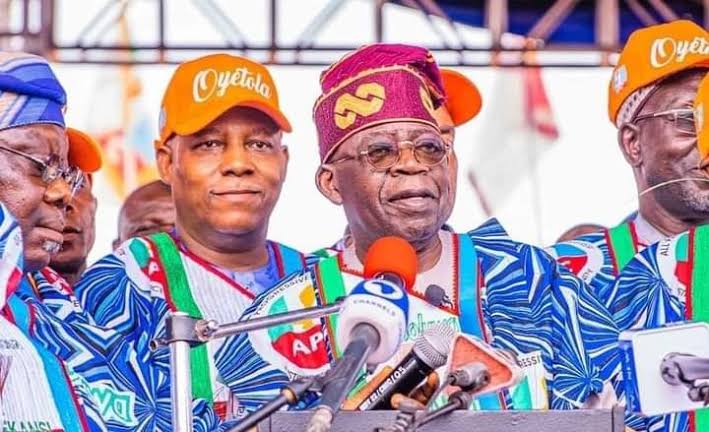 In a bid to defray the aggressive pushback attending the same-faith presidential ticket of his party, APC national chairman, Abdullahi Adamu mendaciously declared with a straight face that such pairing is "the will of God"! How convenient! This was the same arrangement bemoaned as "satanic" by another prominent member of the ruling party, no less a person than former Secretary to the Federal Government, Babachir Lawal. Therein lies the fundamental problem with APC presidential candidate, Alhaji Bola Tinubu's choice of tag-team partner. That faith of the politician he is paring with has split his own party down the middle so much so that each camp had to invoke God and Satan to further their arguments. Adamu could not even sustain his attribution of this purely human decision to God as he said in the same breath that "we are as practical as we can in this situation". No sir, practicality and the will of God are mutually exclusive in this instance.
The APC Chairman will be hard press to justify how "God [who] has His reasons for having two major religions to be in this country" will allow a contraption where: the incumbent President is a Muslim from Katsina State; the Senate President is Muslim from Yobe State; the Speaker of the House of Representatives is a Muslim from Lagos State; the Deputy Speaker is a Muslim from Plateau State; the ruling party's Standard Bearer is a Muslim from Lagos State; the Vice Presidential Candidate is a Muslim from Borno State. Even Adamu, the party's national chairman and his deputy are both Muslims from Nasarawa and Borno States respectively. God is not unjust; His will cannot be so cruelly skewed in favour of a particular proclivity in a plural society. Nigerians can't be deceived as this isn't the first time that God is being dragged into the ruling class' ineptitude and indiscretions. In April 2017, then Governor of Zamfara State, Abdulaziz Yari, ascribed the outbreak of Type C Cerebrospinal Meningitis in his state as God's punishment for fornication among residents. Three months ago, the Minister of Defence, Bashir Magashi called for God's intervention in the fight against insurgents and other criminal elements in the country!
Thankfully, Adamu's preposterous defence of the Muslim-Muslim ticket is not shared by Tinubu whose point-men tried to rebuff the cataclysmic backlash by insisting that his choice of running mate is rational and strategic. While personally explaining his choice of Kashim Shettima, the immediate past governor of Borno State as running mate, Tinubu said, "To re-envision and reshape the nation, I must compose the best team possible, a team put together with but one overriding purpose: to forever establish, just, capable and compassionate governance for the people of Nigeria without regard to religion, region or ethnic origin." He further stated that "A dominant theme of my political history and my personal life is my staunch belief in our diversity…My selection of a running mate comports entirely with this longstanding inclination." There goes another fib; Naija News does not see how a Muslim-Muslim ticket promotes Nigeria's diversity. If it does henchmen of the Tinubu campaign and closed associates from the short-changed part of the country won't be distancing themselves from his life-long ambition as they have been doing ever since the announcement was made.
If truly such a ticket advances the cause of unity in diversity, about 500 Christian Clerics led by Bishop David Gyang, won't have marched in protest to the United States embassy in Abuja on Thursday, where they told the international community, that "the move by the APC to adopt a Muslim-Muslim ticket is most insensitive and the height of discrimination against Christians in Nigeria" and that "by their action, the APC sent a strong message that Christians are not relevant in the scheme of things in the country". As odious and divisive as his choice is, this newspaper cannot begrudge Tinubu for opting for the politician he believes comes with the competitive edge. While we cannot blame him for out of political expediency and desperation opting to intensify rather than balance his ticket, we hold him responsible for heating up the polity and stocking tension across the country.
Naija News is also worried by the disaffection that the decision of the ruling party to run with a Muslim-Muslim ticket in the 2023 presidential election is already causing in the polity. If these are the headlines ahead of the lifting of the embargo on campaigns: 'Crass insensitivity' — northern APC Christian leaders fault Muslim-Muslim ticket', Shari'ah Council accuses CAN of fanaticism, intolerant over opposition to Muslim-Muslim ticket', 'Tinubu-Shettima: CAN engaging in spiritual banditry – Islamic group', the bitter nature of the rhetoric can be better imagined by the time politicians and their supporters go for broke when INEC lifts the curtain on campaigns. Such considerations should have counted for something in APC's ultimate choice of Vice Presidential candidate.
Hardline and callous politicians must be made to understand that there has to first be a country before they can govern. The presidential ticket has always been balanced in the enlightened self-interest of everyone. Buhari's Nigeria is not the Nigeria of 1993 where a Muslim-Muslim ticket carried the day. Going by the parochial and nepotistic leadership style of President Buhari, the greatest needs of the country are national healing and unity. It will be interesting to hear Tinubu on the soapbox, trying to convince Nigerians that he is the candidate to unite the country post-Buhari.
It is worrisome that despite taking five weeks to name his running mate, Tinubu did not use the intervening period to consult widely and in his party as a way of getting the buy-in of those who will be aggrieved or feel insulted by his plan to head to the polls with another Muslim. If he did, there wouldn't have been the fierce pushback that attended his announcement of Shettima as running mate. Why shave a man's head in his absence. Nigeria will definitely do better with a consensus builder! This desperation to retain power at the expense of the religious balancing respected by even military dictators exposes the APC. In the words of the 34th President of the United States, Dwight D. Eisenhower, "If a political party does not have its foundation in the determination to advance a cause that is right and that is moral, then it is not a political party; it is merely a conspiracy to seize power".
While Tinubu is within his rights in selecting a brother Muslim as running mate, Naija News make haste to remind him that the Nigerian Constitution stipulates that "the government of the Federation or of a state shall not adopt any religion as state religion". He must also not lose grip of the fact that Section 14(3) of the Constitution demands that, "The composition of the Government of the Federation or any of its agencies and the conduct of its affairs shall be carried out in such a manner as to reflect the federal character of Nigeria and the need to promote national unity, and also to command national loyalty, thereby ensuring that there shall be no predominance of persons from a few States or from a few ethnic or other sectional groups in that government or in any of its agencies".
We believe that the antidote to this provocative and insensitive ticket is the fact that the Nigerian voter is spoiled for choice. Naija News, therefore, calls on the electorate to deal with the Muslim-Muslim candidacy as an issue of conscience and right of franchise. We however hope that this audacious same-faith ticket is not because those behind it have stashed enough cash in bullion vans with which to compromise voters or game the electoral system. Nigerians must be the most religious bunch of people on earth, which perhaps accounts for why such sentiment often sneaks into serious national conversations. In keeping with this, let the actual will of God prevail as to who becomes the next President.