Nigerians React As Tinubu Fails To Reveal Name Of Running Mate Summitted To INEC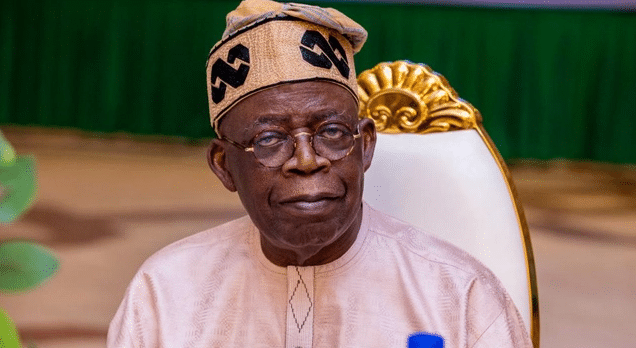 The 2023 presidential candidate of the All Progressives Congress (APC), Bola Tinubu on Friday confirmed that he has submitted his duly completed nomination forms to the Independent National Electoral Commission (INEC).
According to the statement, the forms were submitted on Wednesday, two days ahead of the deadline given by INEC for the submission.
"As stipulated by the electoral law and INEC guidelines and timetable, the standard-bearer of the All Progressives Congress, HE Asíwájú Bola Tinubu, has returned his duly completed nomination forms to INEC," a statement issued on Friday from the Tinubu Media Office by Tunde Rahman read.
Many Nigerians had waited for the moment Tinubu would reveal his running mate but were surprised when the former Lagos State Governor didn't reveal the identity of his running mate.
It is however been speculated that a placeholder was named in the form submitted to INEC so as to be able to beat the stipulated deadline.
By implication, such a name may be replaced before the final list of candidates and their running mates are published by INEC.
This has generated several reactions with some Nigerians taking to the micro-blogging site, Twitter to share their opinions.
See some of the reactions culled by Naija News.
How legal is this 'placeholder candidacy' thing though? Does INEC allow that?

— FOLA FOLAYAN (@TheFavoredWoman) June 17, 2022
APC secretly submitted the name of Tinubu running mate to INEC without notifying Nigerians, may be na INEC go vote APC.😂 pic.twitter.com/ftsw5ZpnFK

— Bashiru Ja'afar (@BashiruJa) June 17, 2022
Parties are struggling to submit names of running mates for their presidential candidates and INEC is not even batting an eyelid but same INEC wants to close voters registration by 30th of June, why this country be like this?

— Adesina David (@_AdesinaDavid) June 17, 2022
Who are the VP Candidates of APC, Labour Party, NNPP and others….? I heard today is the Deadline day as stated by INEC. Why is it so difficult for the SO CALLED Parties to announce the running mates of their Presidential Candidates if they are TRULY Ready to Govern ?….

— Shina Balogun (@Govshina) June 17, 2022
What is more shameful is that APC as the ruling party was unable to present a running mate to meet INEC's deadline. We also had primaries moved in their favor, the body language of the APC wreaks and smells of havoc. I want to see them fall like a pack of cards.

— theonly1acre (@theonly1acre) June 17, 2022
Tinubu's temporary running mate is Masari.

Peter Obi is Doyin Okupe.

They submitted temporary names to INEC because today is the deadline.

However they can always substitute names on or before July 15,2022.

— OTUNBA 🇨🇦 (@ManLikeIcey) June 17, 2022
So APC named a temporary candidate for VP to meet INEC deadline for today. And after today, they can change it to their original choice for VP. Please how is this even legal? I don't understand

— Kelvin Odanz (@MrOdanz) June 17, 2022
Why's INEC allowing this placeholder stuff? Nigeria doesn't just run out of drama. I hope this is not the approach that parties will take into governance. Nigeria needs speed and decisiveness in fixing its challenges.

— Olúseun Onígbindé (@seunonigbinde) June 17, 2022
Abeg INEC office don close, we still dey find who be VP biko?

— Naija (@Naija_PR) June 17, 2022
Tinubu is running with Tinubu. https://t.co/2Dm7LSKHeM

— 🇩🇪EDO 1ST SON🇩🇪 (@1STSONOFEDO) June 17, 2022
Once again PDP has shown that we are always prepared to lead & govern. We are the only major contender that has picked both President & VP candidates on deadline day & balanced ethnic and religious interests. Rest are confused despite INEC releasing the timetable over a year ago.

— Babasola Kuti 🇬🇧 🇳🇬 (@RealSolaKuti) June 17, 2022
Tinubu submitted Masari's name temporarily to INEC as his running mate, he has not made a final decision yet, they want to see people's reaction about the Muslim/Muslim ticket, he's finding it hard to reveal his undisputed running mate.

Nigerians are watching.

— OTUNBA 🇨🇦 (@ManLikeIcey) June 17, 2022