FCT Minister's Office Shut Over Extension Of Council Chairmen Tenure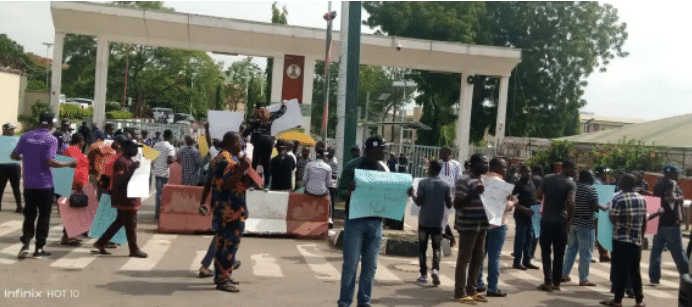 The office of the Minister of the Federal Capital Territory (FCT), Mohammed Bello, has been shut down by protesters over the tenure extension of six area council chairmen and councillors.
The protesters also closed the FCT Administration Secretariat over the extension of the council chairmen and councillors' term in office.
Naija News learned that the tenure of the chairmen and councillors expired on Thursday and the newly-elected officials were supposed to be sworn in today (Friday) following their election in February.
But the FCT minister cited a court judgement on the matter and announced the suspension of the inauguration of the newly-elected chairman and councillors.
It was learned that one of the outgoing chairmen got a ruling to seek a tenure extension by one year in accordance with the new Electoral Act which stipulates a four-year term for area council chairmen in the FCT.
Mohammed, thereby, extended the tenure of the outgoing chairmen and councillors by one year in line with the court judgement.
Displeased by the extension, residents in the Gwagwalada Area Council on Friday morning took to the streets to protest the action of the minister.
The demonstrators also stormed the minister's office and demanded the immediate inauguration of the elected council officials.
The protesters also blocked the roads and made bonfires, which obstructed vehicular movements in the area.