Nigerian Newspapers Daily Front Pages Review | Saturday, 26 March, 2022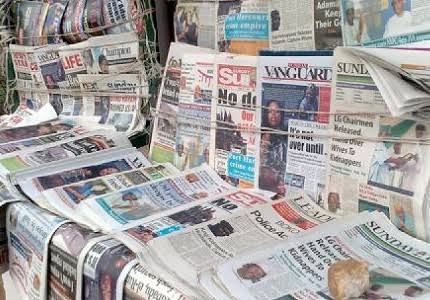 Naija News looks at the top happenings making headlines on the front pages of Nigeria's national newspapers today Saturday, March, 26th 2022.
The PUNCH: Some aspirants vying for various positions in the All Progressives Congress, including those seeking the office of the national chairman at today's convention have refused to step down. This is contrary to the appeal by the President, Maj. Gen. Muhammadu Buhari (retd.), that those who would be voted into offices should emerge by consensus.
---
The Guardian: The leadership of the All Progressives Congress (APC), yesterday, allegedly mounted pressure on aspirants for the national chairmanship position of the party to accept the position of President Muhammadu Buhari on consensus at the party's national convention holding today at the Eagle Square, Abuja.
---
The Nation: All Progressives Congress (APC) leaders appeared yesterday to have found the consensus option of picking the new national executive committee of the party harder than they initially thought, with agreement tough to reach on who would occupy many of the  positions.
---
Daily Trust: The ruling All Progressives Congress (APC) is holding its much-touted national convention today, 26 Saturday, 2022, amidst critical issues affecting the soul of the party
---
Saturday Tribune: BARRING any last minute changes, the ruling All Progressives Congress (APC) is set to validate some former chieftains of the Peoples Democratic Party (PDP) as its key national officers to administer Buhari House, its national secretariat
---
Saturday Independent: After several months of scheming, internal strife and intrigues, the ruling All Progressives Congress (APC), will this weekend eventually announce the names of those that will constitute the National Working Committee of the party.
Thank you for reading, that all for today, see you again tomorrow for a review of Nigerian newspapers.