Sunday Igboho May Be Released Today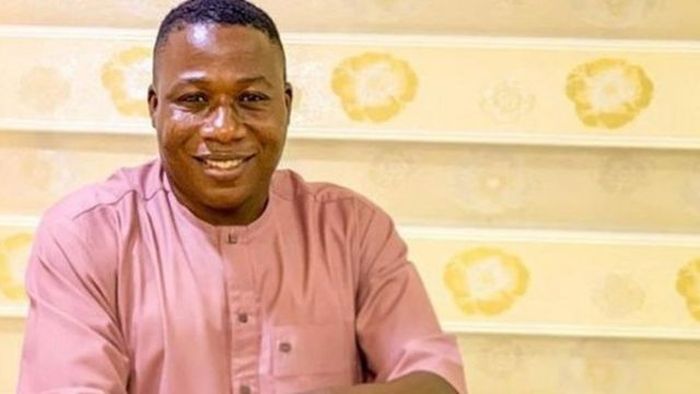 After spending over seven months in detention, embattled Yoruba nation agitator, Sunday Adeyemo better known as Sunday Igboho may be released today, Naija News learnt.
According to The Nation, the activist is likely to leave detention today barring unforeseen factors.
An ally to Igboho is said to have confirmed to the news platform that negotiation for his release to get medical attention reached an advanced stage on Thursday morning, with the assured expectation that the agitator would be left off the hook latest today.
Recall that Igboho was arrested in the Benin Republic last year while attempting to seek refuge in Germany through the country.
Barely a month ago, the leader of the Yoruba Nation agitators, Professor Banji Akintoye cancelled all plans for his 87th birthday celebration as an expression of displeasure to Igboho's continued detention.
Akintoye who is the leader of the umbrella body of Yoruba self-determination groups, Ilana Omo Oodua Worldwide said it is not right for him to be celebrating while Sunday Igboho is still in prison custody in the Benin Republic.
Naija News reports that the professor made his stand known in a statement issued by the Communications Secretary of the self-determination movement, Mr Maxwell Adeleye.
He however called out the federal government of Nigeria, saying it is attempting to criminalize the legitimate struggle for the actualization of a Yoruba Nation.
Akintoye went ahead to say the time for the actualization of a Yoruba Nation has come, urging all those who believe in the project not to give up as it is just a matter of time regardless of the opposition from the government.
He said: "Today, I clock 87. I thank God for this unusual grace and favour from God. I am grateful to God for the strength, energy and good health that I am enjoying.
"My message to the Yoruba people worldwide who are passionate for the country of their own is not to lose hope. I am more than convinced that we are on our way to freedom. Our agitation is an idea whose time has come."