Drama As Man Meets His Ex-Wife's Current Husband – [Video]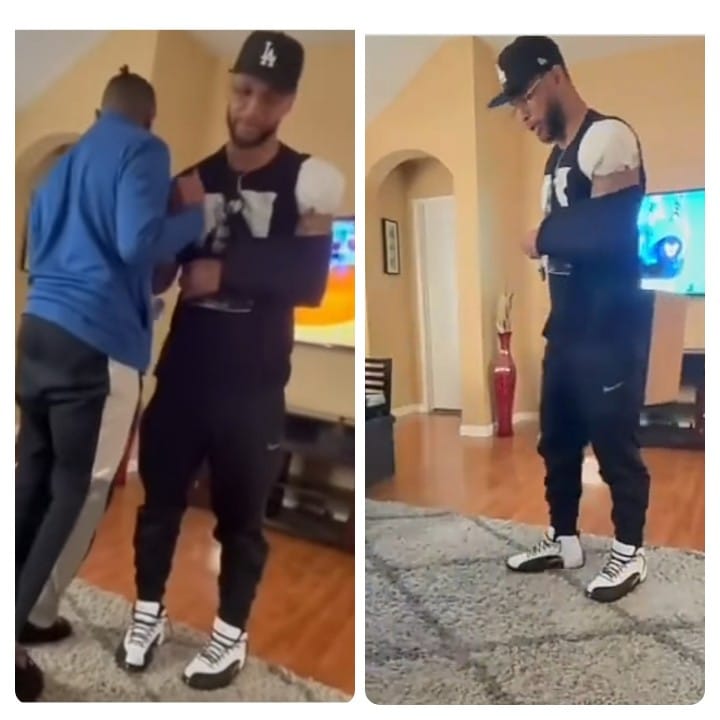 The unusual was seen in a now-viral video that captured the moment a man met his ex-wife's new husband.
While the cause of their separation was not made public, the ex-husband was sighted in the video clip giving an appreciation gift to his ex-wife's current husband.
Naija News understands that the ex-husband deeply expressed his gratitude to his ex-wife's new husband for being a good-hearted and caring stepfather for his kids while he was away.
He said: "I appreciate you for looking after my kids like they are your own".
The man said though it was not in his interest to see another man serving his responsibilities, especially in looking after his children. He, however, acknowledged that his kids' stepfather is doing the most for his children.
He added: "You embrace them, you protect them, provide for them, and at the same time, you still allow me to just come over and chill with them.
"We have no drama and we communicate. This is just like an early Christmas gift to show my appreciation for you," said the ex-husband as he presented a box of shoes to his children's stepdad.
"This is epic," the stepdad screamed in excitement as he unboxed the gift.
Both men shook hands and hugged afterwards, Naija News observed.
Watch the dramatic moment in the video below:
In another news, a young lady in Bauchi State has broken her leg just a few hours before her wedding ceremony.
Naija News understands that the resident of Jangyar village in the Bogoro Local Government Area of the State, was involved in an accident during the Yuletide holidays.
It was reported that the accident happened while the lady's brother, Nenfort was conveying his sister (the bride-to-be) on his motorcycle to Gyara on Sunday, 26th December 2021.
Nenfort sister's wedding was said to have been scheduled for 28th December.
The unfortunate accident reportedly claimed Nenfort's life. However, despite her condition and the unfortunate demise of her brother, the wedding was still held as scheduled, Naija News learnt.
Download NAIJA NEWS app: