Reactions As Man Puts Up Kidney For Sale To Pay Bride Price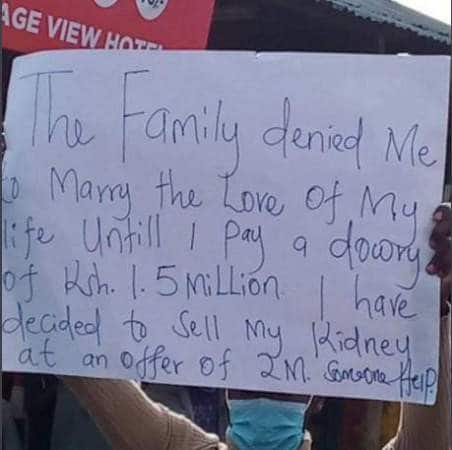 Nigerians are currently reacting to a Kenyan man who has decided to sell his kidney so he can pay for his girlfriend bride price.
The man stated that his in-laws refused to give their daughter to him unless he pays Ksh 1.5M (N5.4m) bride price.
He asked social media users to help him raise the fund while also maintaining that he is ready to put up his kidney for sale.
Below are some reactions to the man's decision to sell his kidney.
Ckjnr_gram: "So what if after the marriage you come die."
Kaydeejee: "She will still leave you"
Misschudel: "If mumu were a person"
For4eva: "He won't still have money to take care of her."
Zubby: "Sale your kidney, marry the girl of your dream then make her a widow shortly. Beautiful nonesense!"
Adah G.: "If he marries the lady with the kidney proceeds, what will she eat since he has no source of income?"
Akuoma akuego: "He's foolish. Is she worth the sacrifice?"
Meanwhile, a fire survivor has taken to social media, Facebook to recount how she was trapped in an incident that killed her brothers and almost snatched her own life.
According to the lady who shared photos from the incident to motivate people going through hard times, she was trapped in a room engulfed in fire and was pulled out with her big toe.
She added that, she lost her two brothers and was burned over 60 percent , losing four fingers and a ear.  Read more
Download NAIJA NEWS app: