Twins, Their Parents And 42 Others Burnt Alive In Horrible Bulgaria Bus Accident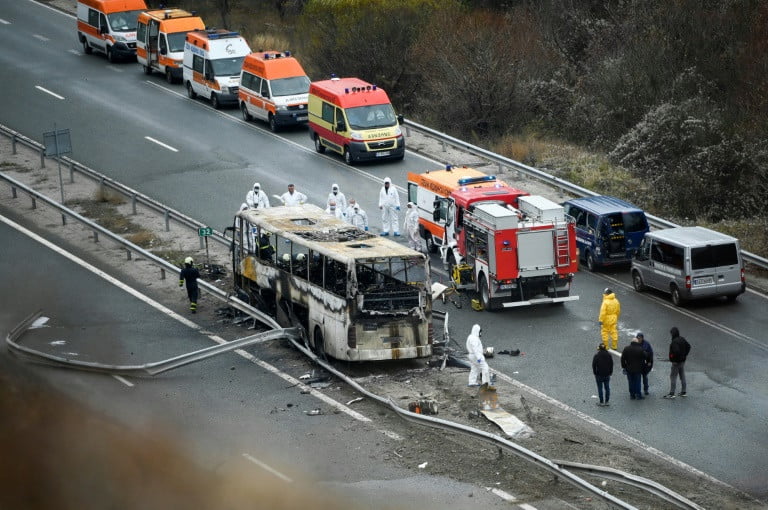 A horrible bus fire incident has reportedly claimed the lives of forty-six people in Bulgaria.
Reports had it that the bus filled up with passengers was travelling along the Struma motorway, in South-West Bulgaria from Istanbul to North Macedonia's capital of Skopje when it crashed on Tuesday, November 23.
Naija News understands that the victims of the horrible incident include four-year-old twins, Luan Ahmeti and Alban Ahmeti and their parents identified as Avni Ahmeti and Jihan Ahmeti, all from Albania.
Twelve little children were also reportedly involved in the crash.
It was gathered that the victims were returning from Istanbul after celebrating Gazmend's birthday in the historic city when the unfortunate event occurred.
Confirming the incident, the head of the fire safety department at the interior ministry, Nikolai Nikolov, told reporters that they counted at least 45 people dead after the bus caught fire and crashed.
Naija News learnt that the fire had started after the vehicle hit a guardrail.
Reacting in a statement a few moments after the incident, the Prime Minister of Northern Macedonia, Zoran Zaev, said only seven people managed to survive the incident as at the time he visited the scene.
The youngest survivor of the crash is a 15-year-old child while the oldest passenger to die in the fire was an unidentified 63-year-old.
The Prime Minister said "tragedy is great", as the majority of the victims were aged between 25 and 30, while 12 of them were children.
The survivors who are said to have suffered degrees of burns to their faces and hands have been taken to the Pirogov Hospital in Sofia, where Zaev plans to meet with them later on in the day.
Professor Maja Argirova who is reportedly the head of the burns clinic in the region said; "People are in severe trauma, they have lost relatives, children. They jumped from the windows of the bus, so they got injured."
Also reacting, the Bulgarian Interior Minister, Minister Rashkov said: "I have never seen such horror."