Insecurity: Cabal Preventing Me From Meeting Buhari – Ortom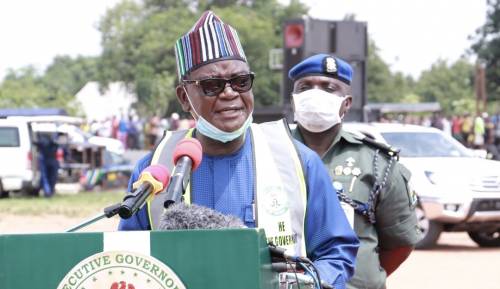 Governor Samuel Ortom of Benue has alleged that a cabal in the Presidency is preventing him from meeting President Muhammadu Buhari over the insecurity in his state.
Naija News reports that Ortom made the allegation while addressing a press conference on Tuesday in Abuja, the nation's capital.
Ortom said the cabal's decision made him constantly state his position on the security situation in Benue and Nigeria through the media.
The governor stated that he will not stop speaking out against any threat to the country's sovereignty, asking all patriotic Nigerians to do the same.
Ortom pointed out that Nigeria is in trouble and asked the Muhammadu Buhari administration to save the country from the claws of Boko Haram insurgents, bandits and killer herdsmen.
He, however, said that those keeping silent in the face of evil perpetrated by bandits are worse than the actual perpetrators.
He said: "I have always been frank with Mr President every time I have the opportunity to discuss with him. Today, the whole country will have seen that there is no other way to escape the insecurity that is going on.
"Except we have ranching in this country because those people who are deceiving in this nation, about open grazing, they are not being sincere and most of the people around are just there to support the presidency and allow foreign herdsmen from Niger, Mali, Senegal, Cameroon from all over the place from even Ghana, from where they were chased away to come and take over Nigeria."
Ortom claimed that over 1,700 residents and 100 security agents have been killed in Benue in the last six years, adding that about 1.5 million persons are still in Internally Displaced Person (IDPs) camps across the state.
He said: "More than 100 security agencies in Benue state have been killed.
"DSS, Police, Army, and civil defence, more than 100 of them have been killed in Benue state, in course of their trying to keep the peace, restore peace in our country. So, this is a challenge."