Anambra Election: Over One Thousand Cops Deployed In Ihiala – Echeng Confirms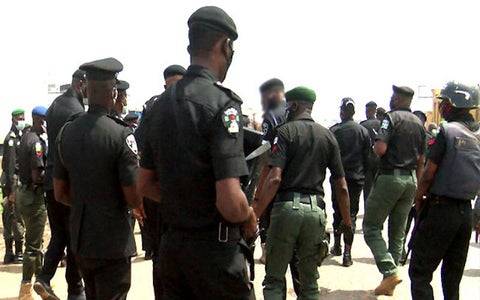 No fewer than a thousand policemen have been deployed to the Ihiala local government area of Anambra State to assure electorates of maximum security and smooth running of the state gubernatorial election on Tuesday (today).
The police commissioner in the state, Echeng Echeng, confirmed the deployment of the cops while appearing on Channels TV on Monday night, Naija News reports.
According to Echeng, the policemen would be complemented by other security agencies to ensure adequate security during and after the polls.
"All the tactical teams, Police Mobile Force (PMF) teams, we have pushed enough into Ihiala because we want to make sure that at every point that we anticipate a problem, we dominate the area. For whoever wants to come out tomorrow will have his own story to tell," Echeng further explained during the live interview.
Recall that the election was not held in Ihiala last weekend after officials said technical glitches, logistics, and uncertainties over security hindered the process.
The Independent National Electoral Commission, however, on Monday announced that a supplementary election would hold between 10:00 a.m. and 4:00 p.m. on Tuesday (today).
Returning Officer, Florence Obi said the election did not hold in Ihiala LGA and would be difficult to announce the winner due to insufficient margin of victory for the leading candidate Charles Soludo.
Meanwhile, APGA candidate, Charles Soludo has maintained a wide margin over his main challengers in APC and PDP.
But due to the fact that Ihiala has more registered voters than the margin between APGA and second-placed PDP, INEC could not declare who wins the election until Tuesday results are announced.