What Will Happen To Those Attacking, Blackmailing Me – Ortom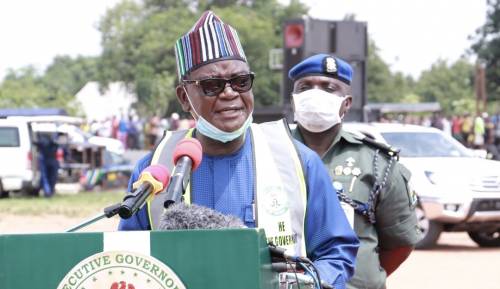 Governor Samuel Ortom of Benue State says he will not stop speaking his mind on the criminal activities of suspected Fulani herdsmen in the state.
Naija News reports that the governor has been vocal in recent weeks over the attack and killing of innocent citizens in the state and other parts of the country.
The governor has publicly called out President Muhammadu Buhari over his perceived lacklustre attitude to tackling the security situation in Benue and in the country in general.
In an interview with Daily Post, the governor stated that those attacking and blackmailing him for complaining about the insecurity in the state would soon suffer the consequences of their actions.
Ortom added that he would soon be vindicated following the injustice he had suffered while defending the Benue people.
He, however, insinuated that a Minister from the state is allegedly sabotaging the interest of the people just to remain in power.
Ortom alleged that the minister has turned the state into IDP camps after benefitting immensely from the people who voted for him.
He said, "I will say it's well. God will help us. All these things they are doing; the day of reckoning is coming. I can assure you. All these injustices; all the things that I have suffered on behalf of my people; the day of reckoning will come for all these blackmailers who have come out now to cause confusion in Benue State.
"The same people had benefited immensely from our people who voted them, but they are now turning our state into IDPs camps.
"God will judge us. And because they want to be National Chairman, they want to remain as Ministers, they do press conferences, they insult the people and walk on their graves and across their dead bodies. The day of reckoning is coming. Watch my words! I serve the living God".