Man Who Tried To Assassinate Mali's President Has Died In Hospital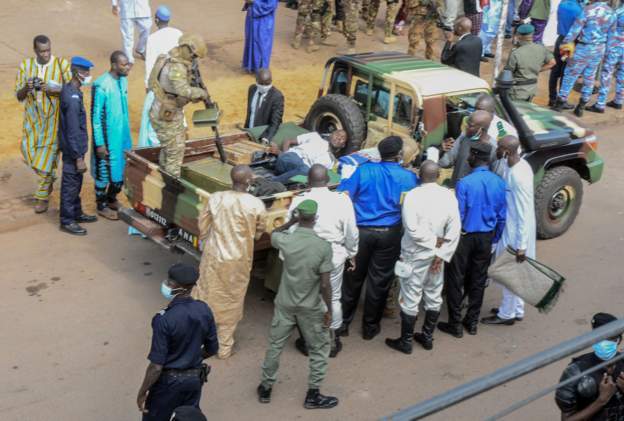 The man who was accused of having attempted Tuesday to assassinate the transitional president in Mali, Colonel Assimi Goïta, with a knife on Tuesday, and who had since been in the hands of the Malian security services, is "deceased", Malian government revealed on Sunday.
The assailant, whose identity has not been disclosed, rushed to the strongman of Mali during the Muslim prayer of Eid al-Adha, at the Great Mosque of Bamako, and attempted to him strike with a knife.
Assimi Goïta, author of two coups d'état in less than a year in Mali, immediately received the support of his bodyguards, who overpowered the aggressor.
Colonel Goïta had escaped the attack unscathed. His attacker, a young-looking man who was dressed in jeans and a white shirt, was apprehended and taken away manually by State Security, the Malian intelligence services.
The investigation continues
An investigation was opened "for attempted murder and endangering state security", according to the authorities. But the suspect has at no time been presented to the judicial authorities, a judicial source revealed on Sunday evening who requested anonymity.
"During the investigations which made it possible to highlight corroborative indications of the above-mentioned offences, his state of health deteriorated. Admitted to the CHU Gabriel Touré, then to the CHU du Point G (two hospitals in Bamako), he unfortunately died, "the government said on Sunday evening in a statement read on public television ORTM. "An autopsy was immediately ordered to determine the causes of his death",
"The government recalls, however, that his death does not preclude the continuation of the investigation already underway at the level of the public prosecutor's office of commune II (of Bamako), especially since the first clues collected and the information collected indicate that he does not It was not an isolated element ", adds the government, which had hitherto not favoured any hypothesis, in a country bruised by multifaceted violence for years.
Source: Naija News