Stop Harassing Nnamdi Kanu, Ex-Ambassador Tells Buhari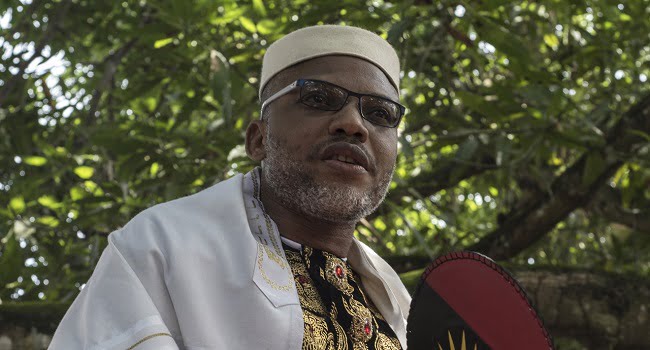 Former Nigerian diplomat, Ambassador Empire Kanu has condemned the Federal Government over the re-arrest and extradition of the leader of the Indigenous Peoples of Biafra (IPOB), Nnamdi Kanu.
Naija News earlier reported that the arrested IPOB leader was extradited last month to Nigeria to face trial after he jumped bail and fled the country in 2017.
Speaking with reporters on Thursday, Kanu asked the Muhammadu Buhari-led government to address the reasons for agitations across the country.
The former Nigeria Ambassador to Argentina also lambasted the federal government for allegedly abducting and persecuting the IPOB leader.
Kanu argued that instead of persecuting Kanu, President Muhammadu Buhari should be concerned about addressing the germane issues he is raising.
He warned Government against hunting Kanu as if he were the problem of Nigeria, saying he has the right to demand better treatment for his people.
Kanu challenged the federal government to demonstrate genuine efforts towards addressing the grievances of agitators of self-determination in the country and see if the agitations would not cease.
He wondered why the federal government is so worried about Kanu who is only agitating for equity and justice while doing little to rein in Fulani herdsmen and bandits ravaging the country.
Source: Naija News