Biafra: What I Will Tell Nnamdi Kanu If I Meet Him – Ikpeazu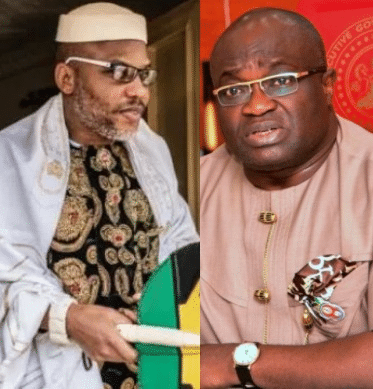 Governor Okezie Ikpeazu of Abia State has maintained that he is not against the agitation of the Nnamdi Kanu-led Indigenous People of Biafra (IPOB).
Speaking to newsmen, the governor stated that he is only against the method of the pro-Biafra group.
According to Ikpeazu, it doesn't make sense to attack and destroy infrastructures in the southeast, when the supposed enemy is up north.
He also expressed willingness to speak with Kanu, not on the basis of IPOB, but as Citizen Nnamdi Kanu, who happens to be an Abian.
"I am the governor of Abia State and he is a citizen of Abia State," Ikpeazu said.
"I have nothing personal against him and I don't think he has anything personal against me. All of us are saying the same thing, that there is injustice, marginalization, but our point of divergence is the approach.
"If one is taking up arms Against the Nigerian Nation, what capacity does the person have to conclude it? Because I, as an individual, I am not a suicide Candidate. I saw a bit of the civil war and I don't want to get people on a boat that is sailing to nowhere.
"Kanu is entitled to his opinion, views and approach, but I am also saying to him, that as a young boy who went to Maiduguri at the age of 16, the boundaries of the South East and Northern Nigeria is not in Umuahia or Ubakala Police Station, neither is it in Bende or Ohafia. We cannot afford to allow our territory be used as a battlefield when the home of our opponents is thousands of mile away from our home. If properties are going to be destroyed during the battle, they will still be our property which we shall suffer to replace at the end of the whole exercise.
"Fighting in one's kitchen is one of the indices that defines lack of appreciation of the first rule of self-preservation, because after the fight, with which pot and plates, are you going use to eat?
"If you have a perceived enemy and you embark on such a voyage and your son kills you, your enemy will just attend your funeral and save his gunpowder for another enemy. I think there is need for good reason to prevail, so that we can sit down and talk about it. If there are things you want us to vocalize about the way things are going in this country, raise the tune a little bit, I think there are people who are willing to say that and do that. For me, I think we need to change a few things in this country and I think we need to be smart about the way we change it. There is somebody who said that those who resort to violence have exhausted the capacity of their intelligence to resolve the matter. I don't think we have exhausted the capacity of our intelligence to resolve the matter. Violence cannot be the First option."