How Boko Haram Is Recruiting Yobe Residents With N20,000 Per Household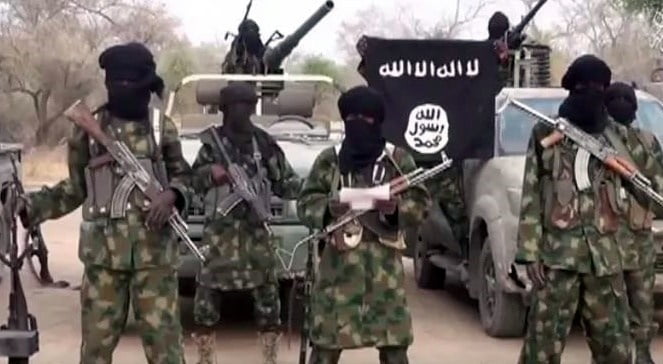 Members of the Islamic State-backed faction of Boko Haram, the Islamic State West Africa Province (ISWAP), are reportedly inducing residents of Geidam, Yobe State, with cash gifts while hoping to get some of them to join.
The group had shared N20,000 to well over 50 households as of Tuesday evening, HumAngle reports
Recall that the insurgents had invaded the local government area on the evening of Friday, April 23, and since held sway over the territory, defying attempts by the Nigerian military to recapture the place.
The insurgents destroyed private and public properties, including telecommunications facilities, but refrained from harming civilians, especially Muslims.
They also hoisted their flag and distributed propaganda leaflets, inviting residents to join their group.
Residents stated that the insurgents were boasting to the locals that they will dislodge a military base located in the town. Troops have, however, put a strong residence even as they were being restrained by fear of recording too many collateral damages.
Chairman of the local government, Ali Kolo Geidam, stated that thousands of his people have fled the town and its environs.
"I don't know who is presently in control because I couldn't access the town for the past two days, but based on the information I received the insurgents overran the military.
"I visited some of the injured victims here in Damaturu Specialist Hospital and I sympathised with their condition," he said.
He said the insurgents have slaughtered two people on Sunday morning including a teacher in Kawuri Primary School, Mallam Baba Tazira in addition to those that were injured with many others displaced.
The chairman refused military claim that they inflicted heavy casualties on the terrorists adding that they should have liaised with locals to get adequate information.
A resident who fled the twon, Rawana Usman, said the terrorists killed two Christian employees of a non-governmental organisation in his neighbourhood.
"They were going round houses targeting Christians, NGO workers and those that are educated in the western schools," he said.
"When I heard of the selective killings, I couldn't resist, I left abruptly. I can say that there were soldiers engaging them. They have been doing their best to push out the terrorists, but I can tell you that these boys were moving normally in the town up to the time I left."