Wakili Pretending To Be Sick To Avoid Investigation – Gani Adams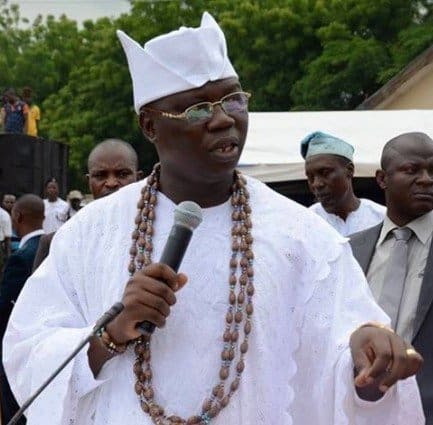 Aare Onakakanfo of Yorubaland, Gani Adams, on a Monday condemned the Nigeria Police Force for arrest members of the Oodua People's Congress who arrested Iskili Wakili.
Recall that the Fulani warlord was arrested on Sunday in the Kajola area of Ibarapa North Local Government.
Adams in a statement released on Monday called out the police for treating OPC members like criminals.
He further stated that the police failed to act while Wakili "terrorized the people".
The Aare described Wakili as a comedian who pretended to be unhealthy to avoid investigation.
"He was hail and hearty, but started pretending shortly after he was captured. With the detention of OPC members, it shows that the police are ready to frustrate the efforts of the people."
"The police that are supposed to commend the joint security team for complementing their efforts went ahead to detain them unjustly, alleging arson and killing of an unknown person."
"People are beginning to lose confidence in the ability of the police, it will be distrastrous for the police to lose the respect of the people."
Adams urged the security agency to release the OPC members, and concentrate on getting rid of Igangan forests and other areas of bandits and kidnappers.
In a related development, GaniAdams, on Monday, disclosed that Iskilu Wakili's men killed four men after the arrest of their boss.
According to Adams, the criminals killed people at Idiyan village, Igangan, Oyo State, on Monday, a day after Wakili was arrested by the Oodua People's Congress (OPC).