Stay Away From Benue Or… Govt Threatens Nnamdi Kanu Over ESN Invasion Plans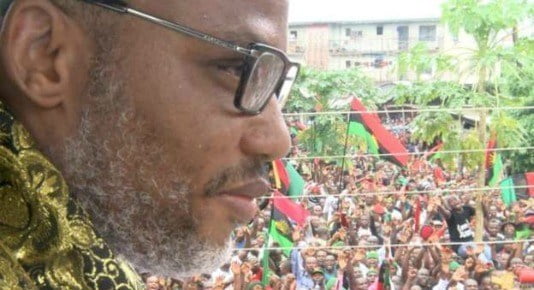 The leader of the Indigenous People of Biafra (IPOB) Nnamdi Kanu has been warned to stay away from Benue State or bear the consequences.
The warning was handed down by the chairman of Ado Local Government Area, James Oche who noted that Benue is not a part of Biafra.
Kanu was also warned to keep his Eastern Security Network (ESN) from invading any part of Benue and stop dragging the state into his campaign for Biafra.
The warning follows an earlier threat by Kanu himself to invade Benue State over alleged injustice to members of the Igbo community in the state.
As earlier reported by Naija News, the Governor of Benue State, Samuel Ortom, was warned by the Indigenous People of Biafra, to ensure the safety of the Igbo living in the state.
IPOB warned that any done to their people would see the Eastern Security Network invade the state.
The group in a statement released through its spokesman, Emma Powerful, alleged that the Igbo people in the state are being terrorized by the killer Fulani herdsmen disguising themselves as military men.
He added that the Igbo people are living in fear, hence the need for the state governor to respond to reinstating security in those areas.
Reacting to the threat of an ESN invasion of Ado and Oju Local Government Areas of Benue, the Ado Local Government Chairman told reporters on Saturday that the territorial integrity of the state would never be a subject of Biafra agitation.
He warned Kanu and his people to stay away from Benue or face the wrath of the law.
The Chairman also denied claims by IPOB that 3 people were abducted in the area, explaining that they were arrested by security operatives in connection with the murder of an elderly Fulani man, Mohammed Isa.
"It was an act that threatened the security of the area and made the Deputy Governor summon a meeting that was held yesterday in Makurdi with all concerned stakeholders.
"Kanu reportedly issued statements charging Benue Governor to protect 'IPOB communities' or he would send Eastern Security Network operatives to do so. He should stop insulting the sensibilities of Benue people," the LG boss explained, adding that the State Governor was on top of the security situation in the state.
Meanwhile, former Minister of Aviation Femi Fani-Kayode has accused a 'Special Advisor' of being behind the insecurity rocking Zamfara and 9 other states in Nigeria.
The Peoples Democratic Party (PDP) chieftain made this known in a post on his Twitter handle on Saturday.
Fani-Kayode, who did not name the Advisor, stated that his objective was to destabilize 10 states to ensure President Muhammadu Buhari declares a state of emergency in each one.