Why I Won't Attend Reconciliation Meeting With Makinde – Fayose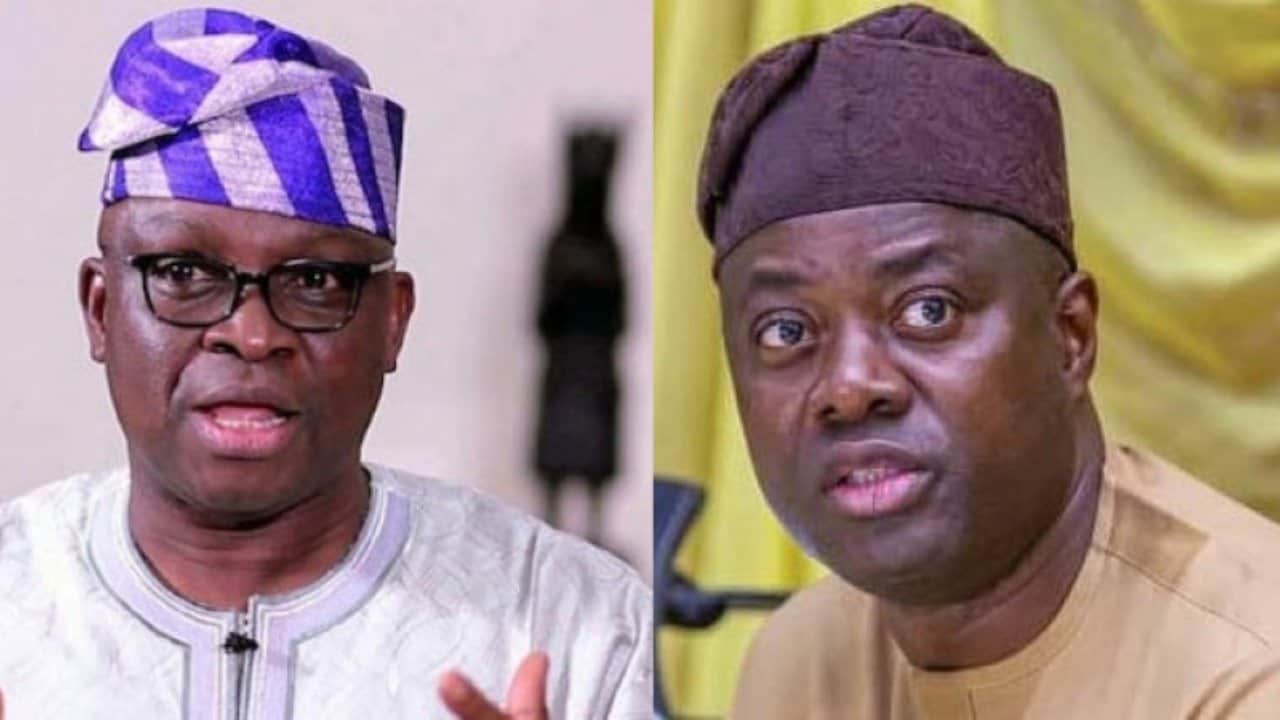 The crisis rocking the southwest zone of the Peoples Democratic Party (PDP) took another turn on Friday after former Ekiti State Governor Ayo Fayose denied plans to attend a reconciliation meeting with Oyo State Governor, Seyi Makinde.
The two PDP leaders have been at loggerheads over the control of the party structure in the southwest.
Both Fayose and Makinde have also nominated different candidates for the forthcoming zonal congress of the party in the South-West, leading to fears that parallel congresses may hold in the region.
The actions of both leaders have further polarized the party in the region leading to the emergence of factions within the PDP in the southwest.
Perhaps worried by the developments, former Osun State Governor, Prince Olagunsoye Oyinlola reportedly convened a peace meeting to resolve the crisis but Fayose has now come out to clearly declare that he won't attend the meeting.
With both leaders and their supporters spoiling for war in the battle for political supremacy, Fayose's supporters, have alleged that any meeting called by Oyinlola "is self-serving and for personal gains."
Personally, Fayose also tweeted on the purpoted peace meeting, saying: "My attention has been drawn to a publication that I will attend a reconciliation meeting by former Governor Olagunsoye Oyinlola, today (Friday).
"Let me state clearly that I have no business with Prince Oyinlola's so-called reconciliation."
Naija News reports that both Fayose and Makinde who are locked in a battle for the soul of the PDP in the southwest have on several occasions, engaged in a battle of words and wits on social media.
Meanwhile, pan-Yoruba socio-political organization, Afenifere, has said it is not concerned about the ongoing probe of the national leader of All Progressives Congress (APC) Bola Tinubu by the Economic and Financial Crimes Commission (EFCC).
Recall that reports had emerged that the EFCC had deepened its investigation into the APC leader, by writing a letter to the CCB, requesting copies of Tinubu's asset declaration form.
A copy of the letter had disclosed that the investigation into Tinubu began last year after the removal of erstwhile Chairman Ibrahim Magu.
Reacting in a chat with Daily Independent, the Afenifere's national publicity secretary, Yinka Odumakin, said the group is more concerned with the insecurity rocking the South-west region.
He asked the former governor of Lagos state to "sort himself out with the EFCC", on grounds that he failed to defend the Yorubas in time of need.