Corps Member Who Hacked Man To Death In Akwa-Ibom Explains Why She Did It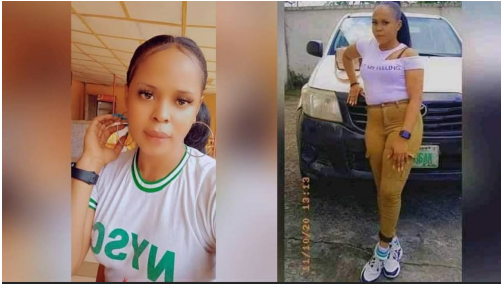 A corps member, Princess Odume, accused of hacking a man to death in Akwa Ibom state on January 10 has told the police she took the action in self defence.
The State Police Command spokesperson, Odiko Ogbeche-Macdon confirmed that Odume during interrogation narrated the deceased man now identified as Japhet Akwaowo wanted to forcefully sleep with her and threatened to kill her if she didn't let him have his way.
She said she met the man on the road and they got talking but she didn't know how she found herself in his house.
He later ordered her to remove her clothes and she had no choice but to defend herself.
"She actually killed the young man identified as Akwaowo Japhet. She said she went to buy bean cake, akara, and saw a man that beckoned to her to come over to him. She said she went to meet him, they got talking and she found herself in his house.
"She said she waited for him outside and he went inside to bring a knife. He said he was going to stab her and no one would know what happened. She also said Japhet asked her to remove her clothes and she refused. What basically happened was that she overpowered him," Macdon quoted her as saying.
Naija News recalls Odume, identified as a graduate of the University of Nigeria, Nsukka, Enugu State, was stripped naked and humiliated by neighbours of the deceased after she was caught trying to escape from the scene of the incident with the cutlass.
An eyewitness while narrating the incident, disclosed that the suspect was caught on Sunday at Abak Road after neighbours saw the corpse of the man lying in a pool of blood with several cuts on his body.
Meanwhile, a former Speaker of the House of Representatives, Dimeji Bankole, is set to marry Aisha Shinkafi Saidu, daughter of Governor Atiku Bagudu of Kebbi State.
Naija News reports that Bankole is ready to tie the knot on Friday 15 January, after divorcing his wife three years ago and leaving the political arena.
The bride, who is a lawyer and graduate of the University of Hull in the UK, is also the granddaughter of a former head of Nigeria's security organisation, Umaru Shinkafi.
A statement from the Bankole family of Iporo, Abeokuta disclosed that a quiet introduction between the two families had taken place.
Source: Naija News