Kankara: 'Buhari Demonstrates Unquestionable Capacity To Protect Nigerians' – Garba Shehu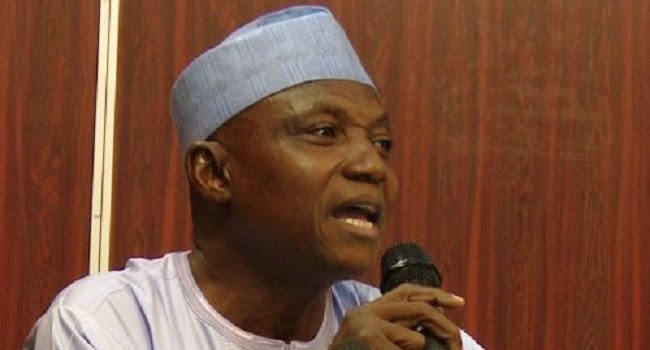 Garba Shehu, the Senior Special Assistant to Nigeria President Muhammadu Buhari on Media and Publicity, said that his principal's regime has demonstrated unquestionable capacity to protect every citizen.
The presidential aide stated this while reacting to the recent success in the rescuing of over 300 schoolboys who were abducted by Boko Haram terrorists from Government Science Secondary School, Kankara, Katsina State.
Shehu in a statement released on Sunday, December 20 said the victory recorded in the return of the children would be celebrated in any reasonable part of the nation where empathy overrides cheap politics.
Naija News understands that the presidential aide in the statement titled, 'Five Takeaways From The Safe Return Of 344 Kankara Schoolboys', condemned those championed the #BringBackOurBoys campaign, labelling them as opportunists.
Shehu said those who doubt Buhari's administration's resolve to protect the lives and properties of citizens are 'mischievous'. He urged the #BringBackOurBoys campaigners to refund monies collected from some persons to fuel the failed campaign.
He said: "There will always be profiteers from other people's misfortune. The lack of patriotism shown by few unnecessary elements in a moment of national distress was crass, shameful and despicable. If they are not directly affected by a tragedy or no immediate family member involved, it is fair game for them and time to gloat or even make a few fast bucks. Indeed emergency activists thought they could cash in on these schoolboys and their parents' misfortune devoid of their conscience.
"While patriotic Nigerians prayed for the boys' quick return, these merchants of fortune were renting crowds, creating certain suspicious hashtags, opening bank accounts for the sole aim of soliciting funds for a cause they thought would linger. What will they do now with the one million T-Shirts they have produced? This is hugely shameful. These scavengers should now be honourable enough to refund the monies they have so far collected for the now futile campaign to discredit their fatherland."
The presidential aide also praised the security forces for the release of the students, saying the military rescued the students without firing a single shot.
Meanwhile, Presidential Spokesperson, Femi Adesina has urged Nigerians to be thankful to his principal, President Muhammadu Buhari for combatting insecurity.
Mr Adesina claimed that in spite of the evident widespread insecurity ravaging the nation, Mr Buhari has done well in ensuring the security of lives and properties, Naija News reports.
Source: Naija News