2023: PDP Is The Best Platform Which Can Rebuild And Unite Nigeria – Saraki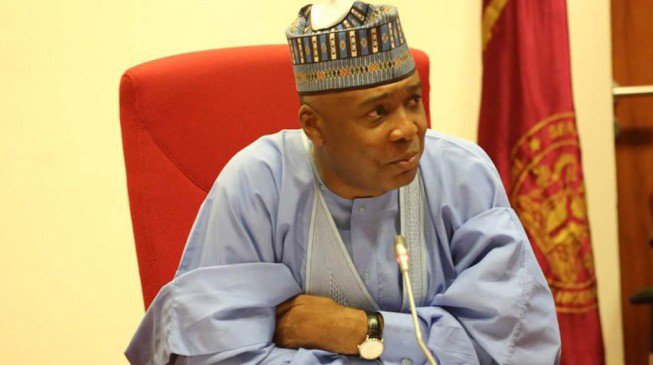 Former Senate President, Dr. Bukola Saraki has declared that the Peoples Democratic Party (PDP) remains the only political party that can rebuild Nigeria in 2023.
He however argued that for the party to be able to perform such a role, it must ensure all its members are united and working towards the same goal.
This, he stated on Wednesday during the swearing-in ceremony for members of the PDP national reconciliation and strategic committee at the party headquarters in Abuja.
As earlier reported by Naija News, Saraki had been appointed as the chairman of the committee but he and other members were formally inaugurated today in Abuja.
Saraki submitted that Nigeria as a country is facing challenges of disunity, lack of unity of purpose, and inability to focus on common national goals and as political parties remain a platform for mobilizing the citizens, it is important for them to put their own house in order.
He promised that his committee will reach out to all stakeholders including the youths to ensure all grievances are addressed and true reconciliation takes place.
While charging the PDP leadership to provide the necessary support for the committee, Saraki threatened that they would resign if there is undue interference that prevents them from doing their job.
Below is the full text of Saraki's remarks during the swearing-in ceremony.
"On behalf of all the members of the National Reconciliation and Strategic Committee of our great party which has just been inaugurated, I thank the National Working Committee (NWC) and other leaders of the party who have considered us worthy of this very important assignment aimed at uniting and strengthening our party, the Peoples Democratic Party (PDP).
In my own view, the greatest challenge facing our country today is that of disunity, lack of unity of purpose and inability to focus on common national goals. This disunity manifests in our politics, our social relations, interactions between the various demographic groups, between the people of various religions and ethnic groups.
Since political parties are vehicles for mobilizing the citizenry around national goals, objectives and ideas, it is important for the passengers in the vehicle to be in harmony, stay together in peace and be focused on their destination and the best possible route to get there.
This initiative by our great party to embark on genuine reconciliation, strengthening of our structures, addressing the grievances of our members, re-inventing the all-inclusive, broad-based foundation of our party which has been the goal of our founding fathers is, to quote Victor Hugo, "an idea whose time has come".
As members of this committee, we all subscribe to the fact that a united PDP is in the best interest of Nigeria. It is a necessity for mobilizing the citizens of this country around the ideas of national unity, economic prosperity, healthy social relations, mutual respect, discipline and security of lives and properties.
For this reason, we will go all out to reach our members who have one grievance or the other and seek to reconcile all of us. We will reach out to numerous key politicians who have left our fold and have indicated interest in returning to the PDP. We will reach out to all the youths looking for a party on whose platform they can contribute to the development of our country. We will reach out to those who create jobs in our country and want to support a party with clear and realistic economic policies. We will hold discussions with many other political leaders in other parties who have expressed the desire to join PDP but have held back until we put our house in order.
We will also seek to provide good accommodation for youths and make them a virile driving force behind the PDP. This committee will seek to make recommendations on how to give sense of belonging to the youths and get them to contribute ideas on how to achieve consistent growth within the party.
It is my belief that this is a critical time in the life of our nation when politicians must forget about our individual ambitions and focus on building a nation that can overcome the challenges of insecurity, economic crisis, indiscipline, disunity and internal as well as external aggression.
After all, it is only when there is a nation that somebody can aspire to govern or lead her. Let me State it clearly that while it is legitimate for politicians to have ambition, this is the time for us to push our ambition to the back.
How can anybody realise his ambition when the political party on whose platform he wants to pursue his ambition not fully united? That is why I believe our pre-occupation as members of the PDP now should be how to unite the party, strengthen it and put it in a position to beat all opposition in coming elections.
The pre-occupation of leaders now should be how to keep our country united, rebuild her institutions, defeat the forces seeking to pull her apart, rebuild the infrastructure, reposition it as a respected and responsible member of the international community, make the country truly serve the citizenry and inspire patriotism from them.
Any political party or politician not worried by these issues is not worth the ambition he or she is pursuing. We believe that nothing is more important at this point than Nigeria and our party. And it is obvious that the success of the PDP today is the only hope that Nigeria needs to survive and bounce fully back.
It is my joy that all the members of this committee are on one page as to what is required of us. We are all determined to give all that is necessary to get the task accomplished.
Mr. Chairman, I am happy to inform you that before our inauguration, we have hit the ground running. We had already been speaking and meeting with some of our governors who are central to the reconciliation.
Yesterday, we were in Plateau State where we met with all the various leaders and had a useful discussion. As we stay committed, we request the co-operation of the stakeholders of the party, starting from the NWC, NEC, Board of Trustees, PDP Governors Forum, the National Assembly Caucus of our Party and all the members.
We are however very clear that our most important partner in this assignment is the NWC. Therefore, we seek your support and co-operation to ensure the success of this committee on its Herculean assignment.
As members of this committee, we have decided to do only what is right. We do not have any personal interest and will not allow any interest other than of the party and what represents the truth, equity, objectivity, unity and peace to influence what we will do.
The NWC must also give us free hand to operate. I want to make it very clear that we will put in our best. That is why we seek the co-operation of the NWC.
However, if we see any sign that the NWC is working to undermine us or that we are not working in sync in the performance of this assignment, with all sense of responsibility, we will not hesitate to tender our resignation. That is what the members of the committee have asked me to convey to you, Mr. chairman.
I am proud to note that PDP is still the best platform through which we can rebuild and unite Nigeria. One indication about the significance of this party is that it is the ONLY political party that has at least a Governor in all the six geo-political zones of our country.
Our party is also the only party which has members in all the households, streets, polling zones, wards, local government areas, states and across the country such that it is said that any street or community where the symbol of the umbrella is not sighted may not be part of the Nigerian territory.
It is our belief and that of many members of this party that our chances in the 2023 elections are very bright and we need to unite ourselves to further brighten the chances.
Thank you all. Long live Nigeria! Long live the PDP! PDP, Power to the People."
Download NAIJA NEWS app: