This Is Jubril Of Sudan… Nigerians React To Buhari's #EndSARS Speech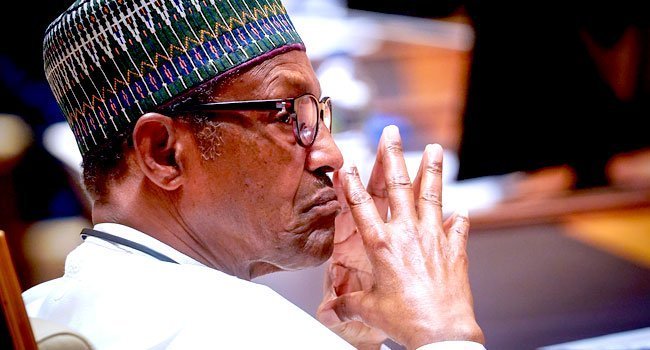 Nigerians have taken to the micro-blogging site, Twitter to refer to President Muhammadu Buhari as "Jubril of Sudan" after his "live" national broadcast on #EndSARS protests.
Naija News had reported earlier that President Buhari addressed Nigerians on Thursday evening following the Lekki massacre of unarmed peaceful protesters at the Lekki toll gate in Lagos, Nigeria's commercial city.
During the speech, Buhari failed to address the shooting of #EndSARS protesters by soldiers of the Nigerian Army but rather ordered that the protests against police brutality that rocked various cities across the nation before the Lekki massacre on Tuesday.
President Buhari said: "I, therefore, call on our youths to discontinue the street protests and constructively engage government in finding solutions.
"Your voice has been heard loud and clear and we are responding."
Apparently displeased with the President's address, Nigerians took to Twitter to refer to Buhari as "Jubril", a name given to the Nigerian leader by Nnamdi Kanu, the leader of the Indigenous of Biafra (IPOB).
Naija News reports that since Kanu resurfaced in Israel in October 2018, he has been alleging that President Buhari is an impostor whose name is Jubril Al-Sudanni of Sudan, a claim which the President quashed after the IPOB leader presented what he described as "scientific proof."
On Thursday, Nigerians backed Nnamdi Kanu's claims that President Buhari is Jubril o Sudan" on Twitter with many asking "Jubril to leave so Buhari can take over as Nigeria's President".
Naija News captured some of the reactions below…
Jubril didn't mention anything about lekki toll gate , I mean buhari

— #SARSMUSTGO ?? (@Dremodrizzy) October 22, 2020
Mr Jubril. We are ready.

— Vee (@veeiye) October 22, 2020
Jubril is mad

— MOELOGO (@moelogo) October 22, 2020
Buhari sorry Jubril talked about Trader Moni, NPower & the Oba Of Lagos attack, no mention of the Lekki Genocide carried out by the Nigerian Army in his Recorded Live Broadcast.

Whenever you listen to Bubu, you will always wonder how he is our President ??

— Odogwu? (@Daddy_Noms) October 22, 2020
Jubril basically said you people should go and hug transformer.

— Deji Faremi (@deejayfaremi) October 22, 2020
I actually had very low expectations for that Buhari speech but somehow Jubril still managed to disappoint me.

— Omoniyi Israel (@Omoissydeyhere) October 22, 2020
*Buhari watching Jubril's live speech* pic.twitter.com/wVsSog3eT5

— Hayles ?️ ?? (@Ha_yles) October 22, 2020
NIGERIA HAS A DEAD SOUL AS PRESIDENT. JUBRIL FROM THE GRAVE.

— Kelvin Odanz (@MrOdanz) October 22, 2020
Omo jubril told them that he only have 10mins to spare, and he didn't use more than 10mins. Jubril wey be introvert.

— valking ♔ (@_VALKlNG) October 22, 2020
Summary of the broadcast by Buhari(Jubril):

*if y'all protest again. I will wipe y'all out.

*The youth are to blame for all these.

*Abroad people, mind your business.

*I no send anybody kill una.

*I wiped out poverty, ask anybody.

*Okoto meow meow skrrrrr pic.twitter.com/oqHsqN84mu

— 엘라 #EndSARS (@Ellinadear) October 22, 2020
It's very obvious that the person that addressed us was Jubril. If it was Buhari, the first thing he would have done was to express shock.

— Oscar-Romero (@mroscarromero) October 22, 2020
This is the toughest 15mins of my life trying to assimilate what someone is saying

Jubril dey ment!

— Yom ? (@YomYom_) October 22, 2020
Should We Start Killing Cows So That Buhari Can Address Us?? Since He Loves Cows More Than Humans??. Where is Buhari (Jubril)? #Buhariisdead

— Ada King (@Real_AdaKing) October 22, 2020
The Summary of Acting President Jubril Popularly known as Buhari aka "Bubu", "Baba"… Las las #NIGERIAPREVAILS #EndSARS pic.twitter.com/c0Y0F79v43

— ♨️ Sandra ❤️ Laycon #ENDSARS (@SandrazSl0t) October 22, 2020