#EndSARS: Why Is Nigeria Mainstream Media Afraid Of Reporting The Protests?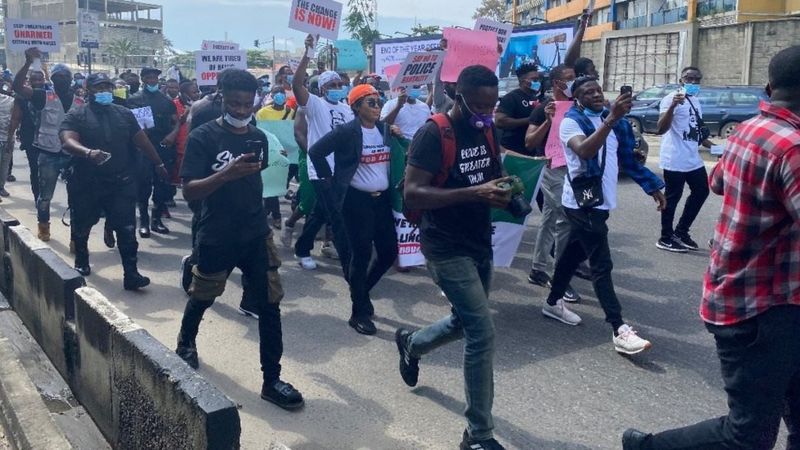 Thousands of youth have taken to the streets across Nigeria from Lagos to Abuja, Benin City, Ilorin and many other places to protest police brutality and demand a ban on the Special Anti Robbery Squad (SARS).
SARS is a unit of the Nigerian Police headed by Deputy Inspector General of Police Anthony Ogbizi under the Force Criminal Investigation and Intelligence Department.
The SARS is meant to protest the citizenry against robbery, unfortunately, this dreaded unit of the Nigeria Police force has been involved in more acts of extortion, torture, framing and blackmail since 2012 than they've curbed robbery which is their primary assignment
Since the protest started, the major TV channels and Newspapers in Nigeria boycotted the biggest protests in recent years in Nigeria.

Ironically these media houses are quick to report international unrests like the Black Lives Matter protest in the faraway United States.
The youth protest has only been able to gain some attention mainly through social media engagement and reports on some online websites, including Naija News.
Entertainers including Folarin "Falz" Falana, Douglas "Runtown" Agu, Tiwatope Savage and Debo Adebowale among others have been in the forefront of the protest calling for the scrapping of the Special Anti-Robbery Squad unit in of the Nigerian Police.
All National TV networks in Nigeria including Channels TV, AIT, TVC News and Arise TV have turned blind eyes to the grievance of the oppressed Nigerian youths.
The newspaper platforms are also not left out in the boycott, PUNCH, Vanguard, Dailytrust and many other Newspaper platforms have also decided not to give the youth a voice through their platform.
The silence of the mainstream media to the plight of the Nigerian youths is too loud, its either they are in support of the police brutality or they are afraid of the backlash from the Nigerian government.
Thousands of Nigerian youths especially students have been either harassed, brutalised or extorted or even killed by the dreaded SARS men.
In December 2016, Segun Awosanya started an online advocacy campaign to end SARS brutality in the country. Awonsanya started the online campaign with a hashtag, #EndSARS. The public responded well to the hashtag with people all over Nigeria posting their SARS experience.
Between 2016 and now, there have been several promises by the government to reform SARS without any tangible result, instead, the killing and abuse against the Nigerian youths keep increasing.
The mainstream media owe Nigerians and the youths, in particular, the responsibility of giving them a voice at a time like this.
It is obvious beyond doubt that the EndSARS protest which started like bonfire is already growing into a wildfire and it won't stop until the demands of the Nigerian youth are met, however, history will not forget the mainstream media for turning blind eyes while it was needed the most.