Ondo 2020: Akeredolu Shuns Agboola Ajayi At Peace Accord Signing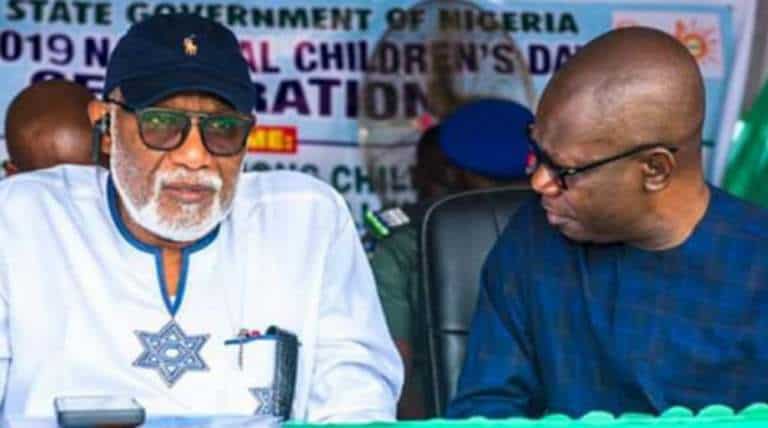 With the 2020 Ondo governorship election fast approaching, candidates contesting the election on Tuesday gathered to sign a peace accord to ensure a violence-free poll.
Those in attendance include Governor, Rotimi Akeredolu of All Progressives Congress (APC), Eyitayo Jegede of the Peoples Democratic Party (PDP), and the Zenith Labour Party (ZLP) candidate and deputy governor of the state, Agboola Ajayi, alongside 13 other candidates.
The event did not end without a drama of its own as Governor Akeredolu refused to shake the hand of his deputy Ajayi Agboola.
Naija News reports that the three major candidates were asked to embrace, shake hands or bump elbows with one another as a sign that they had embraced peace.
Akeredolu greeted Jegede by bumping elbows, but when it was the turn of his deputy, the governor refused to shake hands with or embrace him. Instead, he just waved at Ajayi.
Recall that Akeredolu and his deputy had been at logger heads over the runing of the state.
This led to a fall out between the duo with Agboola dumping the APC and defecting to the PDP to seek the governorship ticket of the party.
Failing to beat Jegede to the PDP ticket, the deputy governor left for the ZLP which has Olusegun Mimiko, a former Ondo governor as its national leader.
Anger by his deputy's decison to jump ship, Akeredolu allegedly plotted his impeachment by the Ondo State House of Assembly which was thwarted by the Chief Justice of the State.
Accusations and counter-accusations have since been exchanged between the duo on numerous occassions ahead of the governorship election.