Magu: Malami Makes A U-turn, Refuses To Testify Before Salami Panel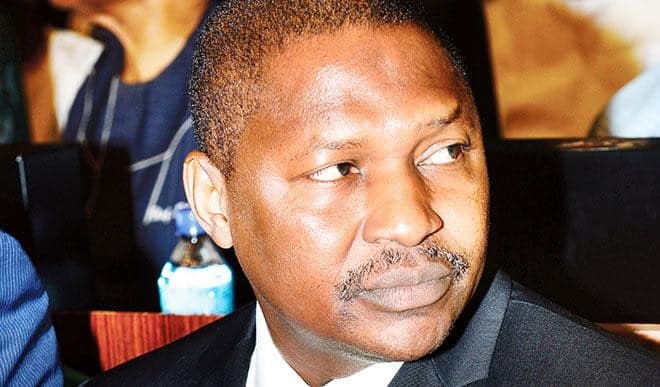 The Minister of Justice and Attorney-General of the Federation, Abubakar Malami, has forwarded a letter to the Justice Ayo Salami-led panel probing the suspended acting Chairman of the Economic and Financial Crimes Commission, Ibrahim Magu.
The AGF told the Presidential panel that he would not be able to appear before the panel because of the privileges of his office.
This is coming two weeks after Malami stated that he would appear before the panel to testify if he was invited.
Magu's legal team led by Wahab Shittu had reached out to the AGF to appear before the panel to substantiate the allegations he preferred against their client.
However, on Wednesday, Salami read out a letter from Malami stating that he would no longer be able to appear.
Tosin Ojaomo, a lawyer to Magu, who confirmed the incident to Punch, said they were all shocked when Justice Salami read out the letter.
He said, "We were all gathered at the Presidential Villa for the day's proceedings when Justice Salami read out a letter from the AGF. The AGF stated that he would not be able to testify because his constitutional role does not include testifying. He said his duty was to prosecute and file charges."
"I was shocked because Section 174 of the constitution does not give the AGF such privileges. Isn't it funny that the AGF who levelled a series of allegations against Magu is now refusing to substantiate the allegations that emanated from his office?"
Source: Naija News