Video: Horrific Moment Student Was Robbed During Zoom Lesson At The Watch Of Other Classmates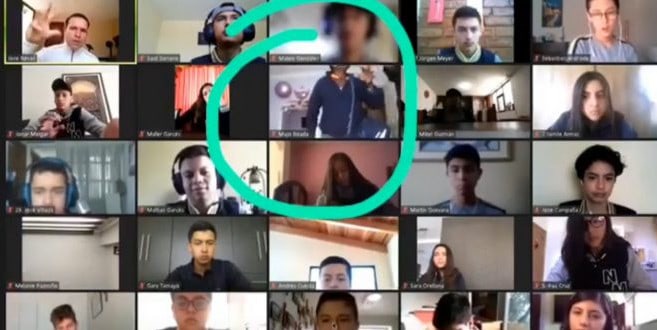 Two masked men have been captured on camera robbing a female student while taking a zoom class with other classmates.
The horrific event reportedly happened in the Ecuadorian city of Ambato on Friday, September 4, 2020.
Naija News understands that the robbers stormed the female student's apartment and robbed her of her valuable properties at the watch of other students who were all connected to the online class taken by one of their school teachers.
The event left about 25 classmates of the young girl whose name is given as Maria Jose, including her teacher dazed as they could not help her at the moment. The robbers for more than 25 seconds were captured on camera until one of them finally realized they are on camera.
It was clear that their class teacher too did not notice what was going on until he was alerted by other students.
In confusion, one of the student's asked, "does anyone have the address or the number of her parents?"
Another replies: "I have her mother's number." While another person suggested that Maria's parents should be contacted immediately.
It could be seen also in the video now-viral that one of the thieves closes Maria's laptop in order to steal it together with other valuables from the property.
Naija News, however, learnt that the victim's classmates managed to alert police and four suspects were arrested.
Speaking on the horrific event, a statement by the Ecuador Police said: "During this operation, units from the Organised Motorised Group (GOM) were dispatched and were informed of the criminal act upon arriving at the location."
"The perpetrators of the robbery fled the scene in a motorised vehicle and thanks to the location of the mobile phones they robbed, they were located and captured in a sector known as 'Huachi Grande'."
Watch the video below.
This is coming barely a month after a couple were caught on live camera having full-blown sex during Zoom meeting.