₦75m Bribe: How I was Employed To Implicate Magu And His Boys, An Abuja Lawyer Reveals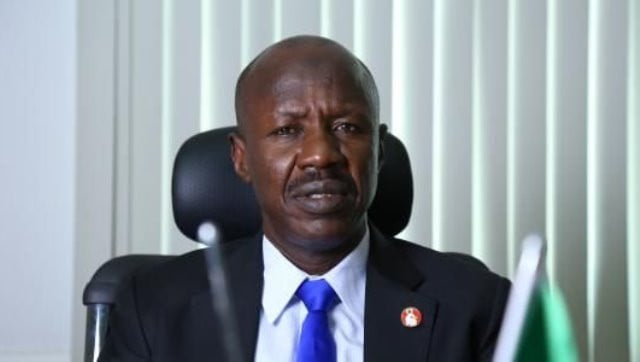 An Abuja based lawyer, Barrister Victor Giwa has revealed  how  he was employed to implicate Ibrahim Magu, suspended acting chairman of the Economic and Financial Crimes Commission (EFCC).
Speaking on the new revelation via a letter dated August 15 and addressed to the presidential committee, Giwa alleged that a businessman identified as Donald Wokoma of Damijay Integrated Services Limited had made a desperate move to lure him to nail the suspended acting EFCC chairman.
"I, Victor Giwa, request to provide additional information to state that the said information and petition was borne out of a desperate move of Donald Wokoms to lure me into indicting the Acting Chairman, Ibrahim Magu of the EFCC, with a promise that his money will be released," Giwa said.
"My refusal was what has led to the presentation of an audio recording of client-lawyer conversation which is privilege information.
Naija News had earlier reported that Wokoma played a tape recording before the Justice Ayo Salami-led Presidential Probe Panel on how some operatives of Economic and Financial Crimes Commission (EFCC), under the leadership of the suspended acting Chairman of the Commission, Ibrahim Magu, used a lawyer to demand bribery of N75m to be paid into different accounts.
According to PRNigeria, Mr Wokoma tendered an affidavit of fact in support of a petition he written against the EFCC operatives for extortion before unfreezing his account.
The EFCC had in 2018 refused to obey the order of Justice O.C. Abaza to lift the restrictions on the account of Damijay Services Limited, after the firm had filed a suit for fundamental rights enforcement at the FCT High Court.
An Abuja-based lawyer, Barrister Victor Giwa who was allegedly involved in the deal, the Economic confidential gathered did not deny his voice in the 27 minutes tape recording that was played before the panel where he mentioned names of suspended Chairman of EFCC, Ibrahim Magu among other operatives over the bribery allegation.
Barrister Giwa was the former lawyer to the company on the case with the EFCC.