Meet Graduate Who Attended 16 Primary Schools, Wrote 17 O'level Exams, And His Widow Mother [Photo]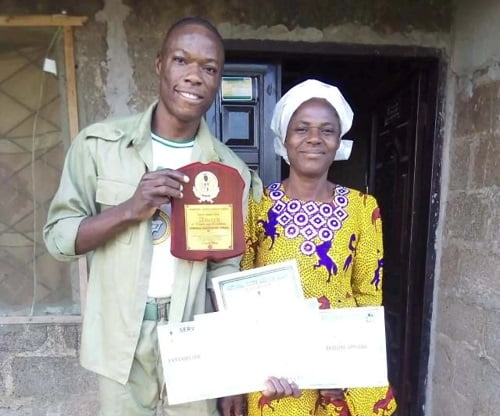 It was all joy with Emmanuel Ahmadu and his mother Esther Ahmadu after the young man had completed his National Youth Service Corps (NYSC).
Vanguard reported that the Youngman had within the space of five years sat for O'level exams 17 times before he could head on to seek for admission into tertiary institution.
It was reported that Emmanuel had all of his school exams solely sponsored by his widow mother, Esther Ahmadu.
Naija News learnt that the proud mother who is said to be a retired school teacher stood by her son and sponsored him all through university, even when he had to sit for O'level exams repeatedly.
Emmanuel Oluwasayomi Ahmadu (his full name) and his mother never give up in chasing academic success even after failing several times. Ahmadu who is now a full-blown graduate expressed his gratitude for having his mother by his side, spending virtually all her life savings for his academic success.
Giving testimony about his proud mother, Ahmadu said, "My mom has been the one God used in sponsoring majority of my enrollments throughout the 16 primary schools, 14 secondary schools and the entire 17 O'level examination attempts, including the University Matriculation Examinations (UME) I wrote 5 times."
He noted that his mother aside from her salaries as a teacher had several times borrowed money from people to help him.
According to him, his mother who also does petty businesses had obtained bank loans just to sponsor his enrollments and education and that of his siblings.
"She trained us in God's way from childhood and she never gave up on any of her children despite opposing tides and societal challenges," he added.
Meanwhile, Naija News had reported that police has arrested a father in Rivers State for allegedly selling his day-old child for N900,000 to a baby factory in the state.