NDDC Probe: Akpabio Shuns Senate Committee, Lawmakers Angry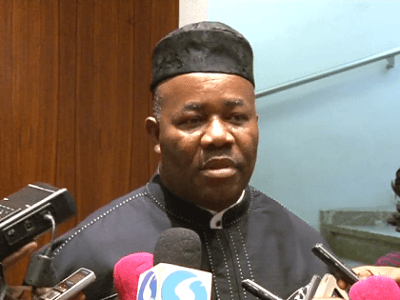 The Minister of Niger Delta Affairs, Senator Godswill Akpabio on Thursday failed to appear before the Senate Committee investigating the case of alleged misappropriation of funds in the Niger Delta Development Commission (NDDC).
Reacting to the development, the lawmakers condemned the decision of the Minister to shun its committee.
The Chairman of the Senate ad hoc panel, Senator Olubunmi Adetunmbi, who expressed disappointment on the development, also noted that Akpabio has refused to acknowledge or respond to any of his committee's correspondences.
He also described as unacceptable, the excuse by the Permanent Secretary in the Ministry of Niger Delta Affairs, Aminu Bisalla, that Akpabio was attending to some national issues, hence his failure to appear before the committe.
It will be recalled the Senate Committee among other things, is investigating an alleged N40 billion corruption in the Niger Delta Development Commission (NDDC) under Akpabio's leadership.
However, Akpabio has maintained that no such fraud occurred in the NDDC, neither does he have anything to hide in the matter.
He further stated that the decision of the Senate to investigate the allegation is an attack on the Interim Management Committee (IMC) set up by President Muhammadu Buhari to manage NDDC's affairs.