Father Mbaka Returns With Powerful New Month Prophecies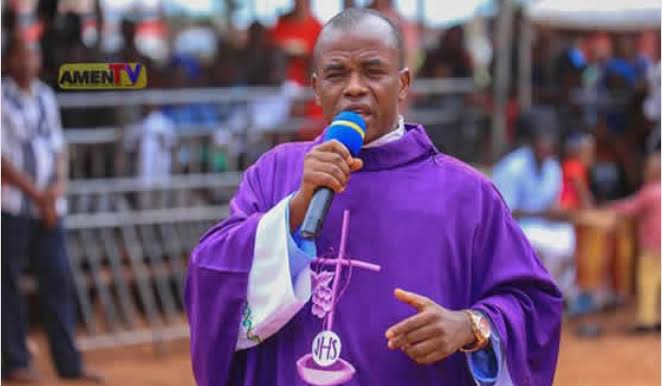 The Spiritual Director of Adoration Ministry in Enugu, southeast Nigeria, Rev. Father Ejike Mbaka, has released powerful new month prophecies after going "mute for some time."
Naija News reports that the controversial Catholic Priest, who predicted the sacking of Emeka Ihedioha and the emergence of Hope Uzodinma as new Imo governor, released the new month prophecies for the month of June on social media network, Facebook via the church Facebook page, Adoration Ministry Prayer line.
In the prophecies for June, Father Mbaka revealed what God told him would happen to the people of Nigeria before the end of June, declaring that this is "your smiling month."
"Welcome to the Pentecost week and to the month of June, your month of transformation and victorious in Jesus' name," he prayed.
The clergyman continued: "Today God has made a promise to you saying from the book of Romans 10:13, for whoever shall call upon the name of the Lord shall be saved. There is no impossibility."
"This month of June 2020 will be your smiling month in Jesus' name… Your enemies will be in trouble right now. All your worries, troubles and sickness will be over in Jesus' mighty name," Father Mbaka declared.
Meanwhile, Naija News reports that Father Mbaka became more prominent and respected in Nigeria after he correctly predicted the defeat of President Goodluck Jonathan and the emergence of Muhammadu Buhari as Nigeria's President in the 2015 Presidential election in the West African country.