COVID-19: PTF Advise NAFDAC, Others On Chloroquine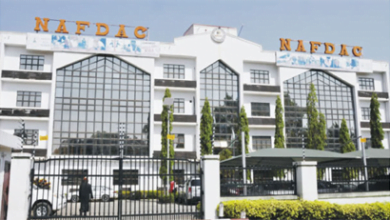 The Chairman of the Presidential Taskforce, Boss Mustapha, has cautioned the National Agency for Food and Drug Administration and Control and other relevant agencies to ensure that all claims to treatment by scientists and researchers were subjected to scientific certification protocols.
Recall that WHO on Monday suspended the hydroxychloroquine trials because of the high mortalities among patients the drug was administered on.
NAFDAC Director-General, Prof Mojisola Adeyeye, on Monday had noted that the agency would go ahead with the trial of Chloroquine which had been effective in the treatment of COVID-19 patients.
He said, "In our briefing of Thursday, May 21, the PTF categorically advised Nigerians against self-medication in treating COVID -19. Particularly, the use of hydroxychloroquine was discouraged because it had not been certified for use in treating COVID-19."
"We have read in the media about the side effects of the use of this drug from COVID-19 patients that survived as well as those who took it outside clinical supervision."
"The World Health Organisation has temporarily suspended all clinical trials of hydroxychloroquine as a potential treatment for COVID-19. This advice was informed by a study which identified that the use of hydroxychloroquine, either alone or with other drugs, has been responsible for a high number of deaths."
"This precautionary measure by the WHO underscores the importance of not only seeking expert medical advice but also ensuring that all claims to treatment by scientists and researchers, whether conventional or traditional, should be subjected to scientific certification protocols by NAFDAC and other relevant institutions so as to guarantee the efficacy of the discovery."
PTF further stated that a protocol had been developed to give community members greater involvement and ownership in identifying and supporting the case management process.
The SGF said allowances of security agents and frontline medical workers would be paid as soon as the National Assembly approved the 2020 Budget Appropriation (Amendment) Bill.
He said, "You are aware that the National Assembly is cutting short its recess to reconvene tomorrow to consider the adjustment to the 2020 budget. You don't begin to apply a certain amount of money…you wait for approvals."
"I believe by the time the leadership of the National Assembly considers the adjustment which has become of necessity because of the economic impact of COVID-19, I can assure everybody will be paid the stipends they are entitled to."
The SGF said on March 11, the Minister of Agriculture presented a memo of N13.9 bn to the Federal Executive Council for monitoring and surveillance, and control of the trans-boundary movement of animals pests and diseases, and rehabilitation of major abattoirs.
He said, "It is very true, we are expecting an invasion of locust, particularly, in the northern part of the country."
Download NAIJA NEWS app: