Oluwo of Iwo, Oba Abdulrasheed Akanbi Caught On Camera Wrapping Marijuana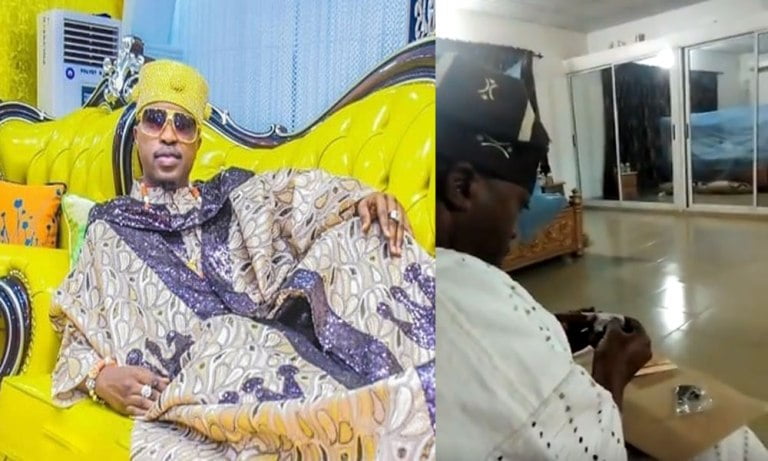 The Oluwo of Iwo, Oba Abdulrasheed Akanbi is in the news again and as usual, for the wrong reason, the controversial king who had been involved in series of scandals might be dethroned soon for drug abuse.
A fresh video was released today showing the king rolling a huge stick of Marijuana in his palace. In the video, the kind appeared to be the only one in a large room. Although there was background noise, no one was seen in the large room where he was wrapping the marijuana.
On the stool before him, he had a transparent nylon bag containing the weed and two sticks of the marijuana that he had successfully wrapped, Oba Akanbi who currently serving a suspension by the Traditional Ruler's council in Osun state appeared to be wrapping the third splif of weed when the video was made.
In related news, the estranged wife of the queen, Chanel Chin, has also accused him of being a rapist and a drug addict and this new video making rounds on social media seems to prove her claims.
Watch the video below:
Oluwo Of Iwoland Caught On Camera Rolling Marijuana. pic.twitter.com/A56Yzo9oXI

— Naija News (@NaijaNews) April 17, 2020
Source: Naija News