After 'Exposing' Abba Kyari, Nnamdi Kanu Reveals Where President Buhari Is 'Hiding'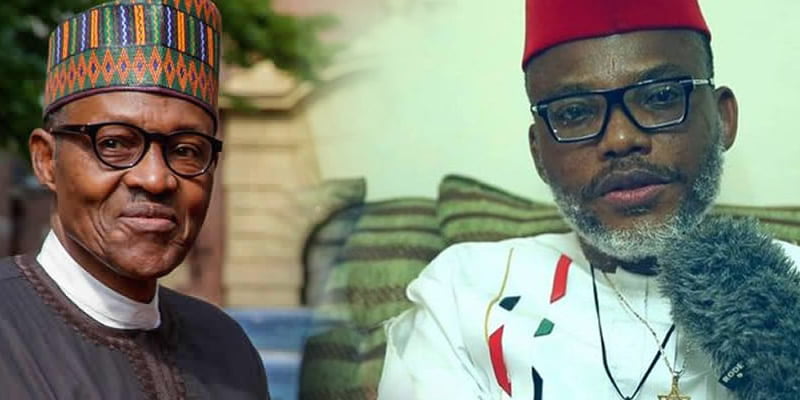 The leader of the proscribed Indigenous People of Biafra, (IPOB), Mazi Nnamdi Kanu has made fresh allegations on the whereabouts of Muhammadu Buhari, President of Nigeria.
The IPOB leader in a post on his Facebook page on Saturday morning, claimed President Buhari has been secretly flown to Cuba.
He added in his allegation that the President's Chief of Staff, Mallam Abba Kyari has also been flown to Cuba for extra medical attention.
It will be recalled that Naija News earlier reported on Tuesday that Mallam Kyari tested positive for the coronavirus infection and has gone into isolation. However, the President's test result came back negative.
Subsequently, the IPOB leader alleged that Abba Kyari has travelled out to Cuba for Coronavirus treatment.
Making a fresh claim on his Facebook page on Saturday, Nnamdi Kanu said that 'Jubril Al-Sudani, a name he commonly uses to refer to the Nigerian President, is in Cuba alongside his right-hand man, Abba Kyari.
He, however, noted that Buhari is not sick but has gone into hiding because he can't function without Kyari.
"QUESTIONS THEY CAN NEVER ANSWER: Nigerians, where is your president? He posted on his social media page.
"Zoo inhabitants where are your Fulani leaders? Hopeless citizens, who is in charge during this time of crisis?
"My challenge to sections of corrupt Nigeria media, cash and carry commentators that always support evil and the rest of you cowardly Nigerians that have no courage to confront bad leadership, has it dawned on you now that I was right all along?
"Buhari is not your president, Jubril is. Jubril is in hiding because the puppet master Abba Kyari is incapacitated and can no longer issue directives. Even Imam of Peace in far-away Australia knows Jubril is in hiding beside a sick Abba Kyari in Cuba
"SHAMELESS NIGERIA, SHAMELESS NIGERIANS
"ASO ROCK MEDIA WHERE IS YOUR PRESIDENT? Or are you people working on a new recruit, a new Buhari? Have you people run out of pictures to photoshop?"
Meanwhile, this online news platform recalls the presidency has in the wake of questions from Nigerians on the health status and location of President Buhari, declared that the President is hale and hearty.
It also released a picture of the President working in his office late on Thursday night.
Similarly, Special Adviser to the President on Media and Publicity, Femi Adesina also declared that Buhari's decision not to address the nation during the period of the coronavirus crisis is simply a matter of leadership style, urging people to stop reading meanings into everything.