IPOB's Nnamdi Kanu Accuses Britain Of Killing Biafra, Vows To Restore It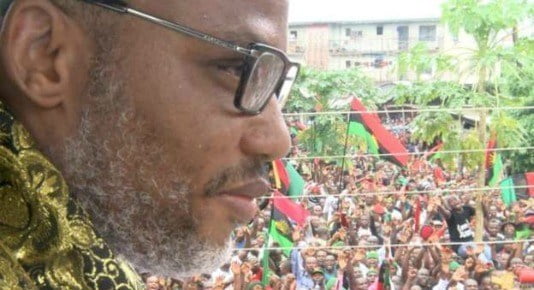 The leader of the proscribed Indigenous People of Biafra (IPOB), Mazi Nnamdi Kanu has accused Britain of being responsible for the 'death' of Biafra republic.
The secessionist leader in a claim on his Twitter account on Saturday, said the Republic of Biafra – which existed between 1967 and 1970 – was 'unlawfully made defunct' by Britain.
Naija News understands the period between 1967 and 1970 was Nigeria's civil war period when federal forces engaged the Biafran forces who wanted to break away from the country.
It is believed Britain secretly provided support for the federal forces in terms of weapons and military intelligence during the civil war.
IPOB's eye remains on the ball to achieve the ultimate goal of restoring the Republic of #Biafra that #Britain unlawfully made defunct.

Join my next broadcast via Radio Biafra FB, FM, App, satellite & online.

Date:
Sunday 15/03/2020

Time:
7:00 PM #Biafraland Time pic.twitter.com/o9qQ36Ducn

— Mazi Nnamdi Kanu (@MaziNnamdiKanu) March 14, 2020
Kanu, however, vowed to ensure the restoration of an independent and recognized Republic of Biara.
The IPOB leader has been in self-exile since 2017 after he disappeared from the country in controversial circumstances following the invasion of his home by troops of the Nigerian Army.