Just In: Fire Out-Break At Mile 12 Market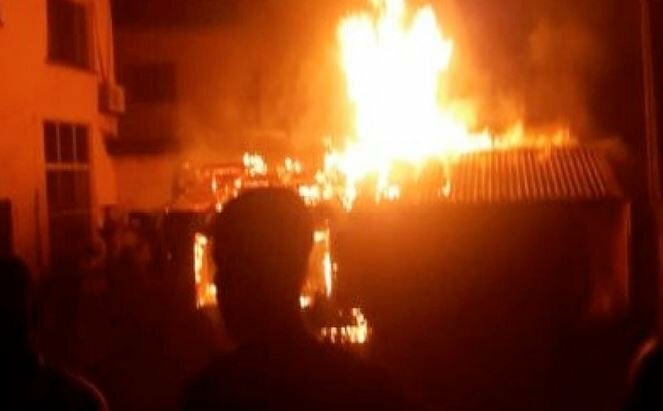 There was another huge fire outbreak at Mile 12 Market in Lagos State since last night.
Naija News learnt that the fire started at about 05.55 am.
According to an eyewitness, the fire incident happened at the popular Mandella garage. Details of the fire incident were sketchy as of the time of filing this report.
meanwhile, several Nigerians have also reacted to the fire outbreak. read some of the reaction below
In the last 6 months every major market in Lagos have suddenly burst into flames now it is Mile 12 something sinister is definitely going on. We may have an arsonist on the lose. It can't be a coincidence anymore.

— Abike Ade (@AdegokeP) February 13, 2020
People are losing their goods and properties worth millions of naira from this fire outbreak happening every now and then and now Mile 12 has been hit too. How long before somebody dies in these mysterious fires? Are these fires being investigated to determine the cause?

— Abike Ade (@AdegokeP) February 13, 2020
Seeing mile 12 on fire, I don't know if this is spiritual or not, but I do know that this is dry season, almost anything and everything is flammable.

Let's all just be extra cautious with our activities, because even the smallest spark can set up a fire right now..#mile12

— Sabi Talk (@RichardWonder2) February 13, 2020
Mile 12 is a perishable foods market, how is there a fire there. No market seems to be spared. This is getting scary and I'm beginning to think there are questionable motives behind these market fires.

— Adebimpe for a better Nigeria 🇳🇬🇳🇬🇳🇬🇳🇬 (@BimpeRoyale) February 13, 2020
I am Still wondering Why SanwoOlu have not Found a solution to this recurring fire outbreak at market places.

A policy or routine check on potential outbreak areas, or the cause.

Make A Strategic Policy.

Mile 12 burning will only increae the hardship of lagosians. pic.twitter.com/OSbQBhGyaV

— Sultan D Analyst 🇳🇬 (@QuadriSultan3) February 13, 2020
I said it a month ago that there's someone on loose that's deliberately setting popular markets on fire 🔥 and Mile 12 might soon be on fire too.

I just knew it. https://t.co/UaoXh17roZ

— Barca Principal (@TheGeniusJaj) February 13, 2020