Fani-Kayode Reacts To Beheading Video Of CAN Chairman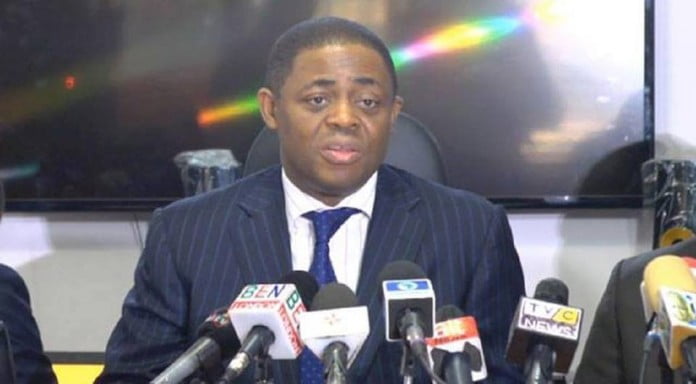 A former minister of Aviation, Femi Fani-Kayode, has reacted to a horrific video showing the beheading of a branch chairman of the Christian Association of Nigeria (CAN) in Michika local government of Adamawa state,  Rev. Lawan Andimi by Boko Haram terrorists.
Naija News had reported earlier that the beheading video of the CAN Chairman was released by Boko Haram.
This online news platform understands that the video surfaced on the internet days after Boko Haram had in January killed Rev. Andimi after the CAN Chairman refused to renounce his fate.
The Chairman of the Adamawa chapter of CAN, Bishop Stephen Dami Mamza had explained that the Boko Haram terrorists, who earlier demanded for a ransom of £2 million, however, rejected an offer of N50 million and killed Rev. Andimi.
Bishop Mamza had explained that two pastors in the state were killed at the same time in questionable circumstances, calling on the federal government led by President Muhammadu Buhari to wake up to its constitutional obligations.
Similarly, the Adamawa state government reacted to the execution of Rev. Andimi, describing the action of the Boko Haram terrorists as barbaric.
The Director General, Media and communications to Governor Ahmadu Umoru Fintiri, Solomon Kumangar, had called for sober reflection.
Fintiri's media aide had in an interview with reporters said that Rev. Andimi was abducted two weeks ago when Boko Haram fighters stormed Michika town, in search of food stuff and petroleum products.
Barely a month after the beheading of the CAN Chairman, a video emerged showing how he was killed by the terrorists.
Reacting to the video in a tweet on the micro-blogging site, Twitter, Fani-Kayode said "Boko Haram are from the pit of hell and the personification of pure and unadulterated evil."
The Peoples Democratic Party (PDP) chieftain tweeted: "I just a watched horrific video of the Chairman of CAN in Adamawa being beheaded by Boko Haram.They removed his clothes,put him in a sand pit,forced him to kneel in it & chopped off his head. Boko Haram are from the pit of hell & the personification of pure & unadulterated evil."
I just a watched horrific video of the Chairman of CAN in Adamawa being beheaded by Boko Haram.They removed his clothes,put him in a sand pit,forced him to kneel in it & chopped off his head. Boko Haram are from the pit of hell & the personification of pure & unadulterated evil.

— Femi Fani-Kayode (@realFFK) February 2, 2020